August 20, 2015
Human Ecology's Thompson named Champion of Family and Consumer Sciences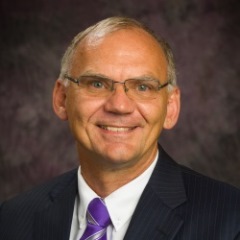 David Thompson, assistant professor in the School of Family Studies and Human Services in the College of Human Ecology, was recognized with the Champion for Family and Consumer Sciences title.
The award came from the Kansas Association of Teachers of Family and Consumer Sciences at its annual meeting in July in Overland Park.
The honor annually recognizes a person, business, company, government or community-based agency who had exemplified extraordinary support and concern for family and consumer sciences, or FACS.
"FACS educators are making a difference in countless lives across the state and nation as they provide life skills for junior high and high school students," Thompson said. "There is a huge shortage of FACS teachers across the nation, and it is my privilege to regularly promote FACS education as a career possibility to students in all of my courses."
The family studies and human services major at K-State is excellent preparation for future FACS teachers as they are educated in dealing with a wide diversity of people across the lifespan, he added.