August 20, 2015
The purple curtain is rising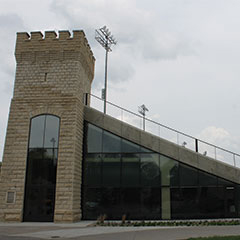 Join the School of Music, Theatre, and Dance for a universitywide ice cream social at 5:30 p.m. Friday, Aug. 28, at the Purple Masque Theatre. The school will commemorate the grand opening of the Purple Masque Theatre in West Stadium.
The Purple Masque Theatre will serve as the primary venue for produced, directed and designed plays by K-State theatre students. Get the scoop on upcoming shows.
Take a peek at the new theatre and enjoy free Call Hall ice cream. All K-State faculty, staff and students are invited.