How to Utilize the Report Manager
The Report Manager should be utilized when the Office of the Registrar runs a report for you or you run a report and want to distribute to other KSIS users. The Report Manager is located under Reporting Tools -> Report Manager: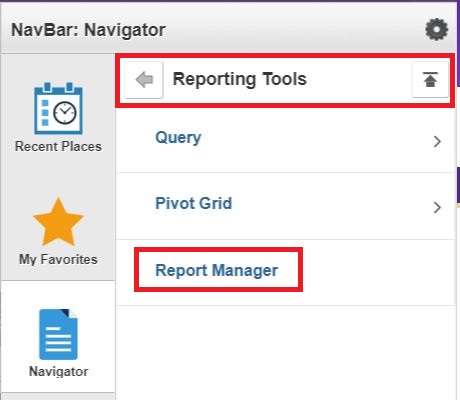 ---
To distribute a report using the Report Manager:
After you have selected to 'run' a report and you are directed to the Process Scheduler Request page, select 'Distribution' as highlighted below:

Under 'Distribute To', click on the '+' button to add a row:

From the dropdown box under 'ID Type', select user, and under '*Distribution ID' enter the eID of the recipient of the report. For the example below, I am distributing the 'Students with missing grades' report to user SHANNON:

Click 'OK' at the bottom of the page, then click 'OK' at the bottom of the Process Scheduler Request page.
---
To retrieve a report using the Report Manager:
Navigate to the Report Manager - Reporting Tools -> Report Manager:

After you have entered the Report Manager, click on the 'Administration' tab:

The Students with missing grades report has completed running and now posted. The report can be retrieved by clicking on the 'Details':

The report is available to both AUTEN and SHANNON. Shannon would retrieve the same report by navigating the Report Manager as outlined above: