November 15, 2019
An enrollment management update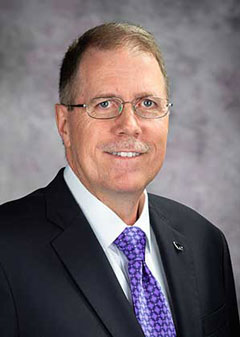 Dear Colleagues,
Monday marks another important milestone in the advancement of our strategic enrollment work — welcoming the inaugural Vice Provost for Enrollment Management, Dr. Karen Goos. The next several weeks will be devoted to onboarding activities and providing an overview of our insights and developments through the strategic enrollment management, or SEM, initiative. Dr. Goos will temporarily office in 218 Anderson Hall and may be reached at goos@k-state.edu. Please join me in welcoming Dr. Goos to K-State!
The Office of Enrollment Management will welcome K-State's new university registrar Kelley Brundage on Jan. 12. Soon-to-be Dr. Brundage replaces Monty Nielsen, who retired at the end of June. A special thank you to Susan Cooper who has served as interim university registrar for the past six months. Susan will return to her role as associate registrar.
On Nov. 13, we celebrated the 40-plus year career of Larry Moeder, special assistant to the provost. Larry recently served as associate vice president for student life and executive director of Student Financial Assistance and Undergraduate Admissions. Larry will officially retire Dec. 13.
Continuing with transitions, I am very pleased that Dr. Emily Lehning will join the provost's office as special assistant to the provost with a focus on project management. This is not a new position but a repurposing of the special assistant position mentioned above. Her efforts will center around supporting SEM initiatives and university strategic priorities. Bryon Williams will continue to serve as interim director for New Student Services.
I thank Dr. Lehning for her work as interim vice provost for enrollment management since July. Under her leadership during this transition period, the Office for Enrollment Management focused on making progress on the SEM initiatives outlined through our universitywide efforts. This fall has been one of celebration and progress.
Congratulations to Powercat Financial for celebrating 10 years at K-State on Sept. 30. The celebration included former Student Governing Association leaders, faculty, administration, and private donors in recognition of the collaborative effort that has grown into a nationally recognized peer-to-peer financial education program.
The Office of Student Financial Assistance has distributed scholarship award letters earlier as a means of communicating the revised scholarships and awards to new domestic and international freshman and transfer undergraduate students. We have relaunched the K-State Scholarship Network, or KSN, and have observed improved user satisfaction ratings from new and current students. Today, scholarships and awards offered by colleges and departments were launched in KSN. Please invite students to review these new offerings to learn if they are eligible for more awards. These advancements, in combination with the reduction of the renewal GPA to a 3.0 for many of our university awards for new and current students, stands to have a tremendous impact on student success.
The International Admissions and Recruitment Team has completed their fall recruitment and outreach travel. This is the first time we have been able to offer renewable merit-based scholarship awards to new international students joining us in fall 2020. Early response has been positive with an increase in inquiries and applications.
New Student Services and the Office of Undergraduate Admissions have also been working hard. New Student Services launched a new series of events for prospective and admitted students. The changes to the event schedule have offered academic and student life areas the opportunity to customize messaging for their audiences. We have heard positive reviews of the new format. The Office of Undergraduate Admissions has advanced efforts to improve transfer credit evaluation resulting in increased speed and responsiveness for course evaluations with the more than 1,000 unique transfer course evaluations requests sent to faculty. In addition, the office has completed 10 entire course catalogs reviews for the top in-state transfer institutions, and they launched a student-friendly course evaluation request form.
The Academic Interest Areas project continues to gain attention and support. Born out of a trend toward a career advising model in high schools in Kansas and beyond, the interest areas approach allows us to showcase similar programs together that do not necessarily fall within the same departmental or college reporting lines.
Last summer, an initial set of interest areas was proposed and taken to deans council for feedback. Ultimately, the list was approved as follows:
Agriculture, food and natural resources
Architecture, art and design
Aviation
Business
Communication, media and marketing
Computer science and information technology
Education and leadership
Engineering and construction
Government, law and social sciences
Health professions
Hospitality and tourism
Human and social services
Humanities, culture and society
Science and mathematics
Veterinary medicine
Visual and performing arts
The deans identified a point of contact within each college to assist with the tagging of academic programs into these interest areas. Each program was asked to assign up to three tags, with a weighting system to ultimately be applied across the tags in priority order. The colleges provided their tagged programs, both undergraduate and graduate, to the Office of Admissions in June 2019.
The Office of Admissions and Division of Communications and Marketing then worked together to reconcile the tagged programs from the colleges with the existing academic search website database to create a master spreadsheet that will power a new and improved academic search database — one that allows students to search for programs in multiple ways, including via interest areas. The target launch date for the new academic interest areas web presence and search database is February 2020.
The implementation of Salesforce/TargetX as the universitywide Constituent Relationship Management, or CRM, system continues. Dr. Goos brings a tremendous amount of experience in CRM implementation for advancing SEM goals. As the project lead, she will add a great deal of value to the efforts for a successful full implementation of our first universitywide CRM.
As we get ready to welcome Dr. Goos, I wanted to pause and share a few of the highlights of the progress this fall from the Office of Enrollment Management. These highlights serve as examples of the collaborations and hard work being done across the university to advance enrollment and student success at K-State.
Sincerely,
Chuck Taber
Provost and executive vice president