Partnership with Hill's Pet Nutrition adds dimensions to K-State veterinary college
Friday, Nov. 15, 2019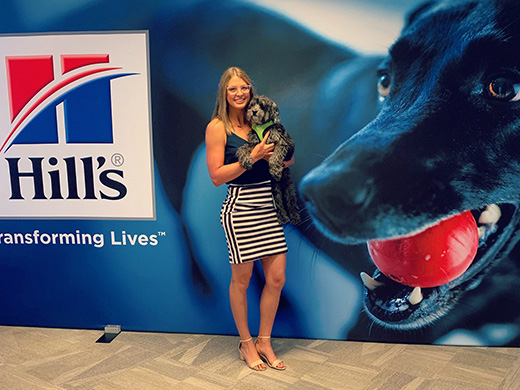 Third-year student Abby Ostronic brings her dog Leo to work with her for an internship in professional veterinary affairs at Hill's Pet Nutrition offices in Topeka. | Download this photo.


MANHATTAN — Healthy pets and nutrition education are key components of a partnership announced a year ago between the College of Veterinary Medicine at Kansas State University and Hill's Pet Nutrition.
One of the highlights of the partnership has included the addition of an internship dedicated to nutritional service and education at the Veterinary Health Center, which serves as the college's veterinary hospital. Part of this internship includes the establishment of an obesity clinic for small animal veterinary patients.

"The objective of the K-State Obesity Clinic is to provide a structured program to help overweight dogs and cats reach their ideal body weight," said Elizabeth Davis, head of the clinical sciences department and interim director for the Veterinary Health Center. "The program offers six-month blocks of enrollment that include regular veterinary consults — rechecks will occur every two to four weeks depending upon rates of weight loss."

Vincent Michels was hired as the Veterinary Health Center's primary care/nutrition intern.

"Dr. Michels will be overseeing the majority of the patients enrolled in the program," Davis said. "For the more challenging cases, he will be able to consult with two of Hill's American College of Veterinary Nutrition board-certified clinical nutritionists who are also adjunct faculty of the Department of Clinical Sciences."

This past summer, Hill's Pet Nutrition hosted a summer internship for current veterinary student Abby Ostronic, who is from Lenexa and is currently in her third year of studies at the College of Veterinary Medicine.

"Hill's was an incredible experience for me as I would recommend it to any other veterinary student in the future," Ostronic said. "I got the ability to see what daily life is like as an industry veterinarian and the immense number of roles that a veterinarian can have whether it is in marketing, education, finance, product development, research or many other areas that we are not exposed to during veterinary school. Even though I was only at the company for three months, I was able to make a big difference in their education protocol as well, as Hill's has forever changed my perspective of possibly working as an industry veterinarian in the future."

"It was my pleasure to have Abby Ostronic as the first Global Professional Veterinary Affairs Summer Intern at Hill's Pet Nutrition," said Dr. Mark Brady, senior manager professional engagement.

Another aspect of the partnership includes the establishment of a new continuing education symposium to be Dec. 7 at Frick Auditorium in Mosier Hall at the K-State College of Veterinary Medicine. This symposium features experts from the college, as well as professionals from the industry who will be lecturing on small animal nutrition. This symposium will include complimentary registration to professionals in the field who are looking to learn more about educating and communicating with pet owners to have healthy animals. Lunch and snacks will be provided.
About the College of Veterinary Medicine: The Kansas State University College of Veterinary Medicine, established in 1905, is dedicated to scholarship through innovation and excellence in teaching, research, and service to promote animal and human health for the public good. We are committed to creating an environment that is fulfilling and rewarding, being recognized for good communication, productive collaboration, mutual respect, diversity, integrity, and honesty. To carry out this mission, the college's nationally recognized instructional and research programs provide the highest standards of professional education.