October 25, 2019
K-State's new registrar to start duties in January 2020
Submitted by Communications and Marketing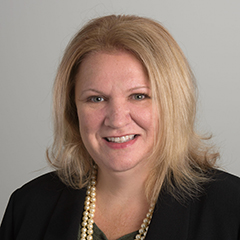 Kansas State University will start the new year with a new registrar.

Following a national search, Provost and Executive Vice President Charles Taber has announced the appointment of Kelley Brundage as university registrar. She will begin her new duties on Jan. 12, 2020. Brundage comes to K-State from the University of West Florida where she has served as university registrar since June 2016.

"Kelley Brundage is highly experienced as a registrar at the university level and will be a critical partner in advancing K-State's comprehensive strategic enrollment priorities," Taber said. "She will be the steward of student records and a key partner in the delivery of educational programs, from enrollment to course grades to graduation."

As K-State's registrar, Brundage will serve as chief records officer and oversee the management of the Office of the Registrar and its areas of responsibilities, including academic records, course enrollment and registration, course and classroom scheduling, degree audit and progress, graduation, transfer articulation, grade processing, transcripts and certifications for enrollment, including certifications of NCAA athletic eligibility. She will report to the vice provost for enrollment management.
"Kelley offers a wealth of experience in higher education and has been deeply involved in local, state and national professional organizations," said Emily Lehning, interim vice provost for enrollment management. "Her previous work and commitment to student success will be an asset to our university."

"I am very excited to be joining the K-State family and becoming a member of a community that has students at the forefront of everything they do," Brundage said.

Before joining the University of West Florida as registrar, Brundage served as associate registrar at Colorado State University in Fort Collins from 2009 to May 2016, including responsibility for compliance and special projects during the last six months of her tenure. She was assistant registrar at Arizona State University, Tempe from February 2007 to September 2009. She also has served in positions of increasing responsibility at Arizona State's West Campus in Phoenix, including as interim manager/director of enrollment management from June 2006 to February 2007, as enrollment services coordinator from February 2005 to June 2006, student support specialist senior from January 2002 to February 2005, and as telecounseling supervisor for technical support and development at ASU West Campus from December 2000 to January 2002.

Her experience includes more than 20 years with Family Education Rights and Privacy Act regulations; computer data entry, including maintaining and creating documents; and working with diverse populations and cultures. She also has nine years of experience working with NCAA Division I and II rules and regulations for eligibility and compliance, and seven years of experience in federal aid information, working with Title IV guidelines and regulations.

Brundage earned a bachelor's degree in global business from Arizona State University, West Campus and a Master of Educational Leadership from Northern Arizona University. She is currently working on an educational doctorate in leadership and learning in organizations from Vanderbilt University, with an anticipated completion date of December 2020.

Brundage replaces Monty Nielsen, who retired at the end of June.