Works family named Kansas State University's Family of the Year

Friday, Oct. 25, 2019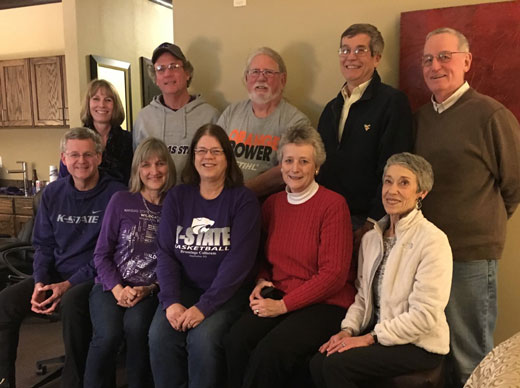 Jane Works' five children and their spouses. Back row from left: Judy Works, Dick Works, Joe Works, Jeff Petersen and Bob Works; front row from left: Fred Works, Karen Works, Janie Works, Ginny Works Petersen and Tami Works. | Download this photo.


MANHATTAN — A family that has invested its time, talents and dedication to Kansas State University for six generations has earned the title of K-State's 2019 Family of the Year.
The Jane Dodge Works family will be recognized as the university's Family of the Year at Family Day on Saturday, Oct. 26, during the football game against Oklahoma at Bill Snyder Family Stadium.
The Works' K-State family legacy began with Jane Works' grandmother, Olive Pickett Dodge, who attended the university in 1867, and Jane Works' mother, Faith Cooper Dodge who attended K-State in 1897, according to Fred Works, one of Jane Works' sons. Jane Works and her husband, George, graduated from the university in 1940 and 1938, respectively.
"Chimes Junior Honorary, which selects the Family of the Year and sponsors the annual competition, considers the family's affiliation with K-State, dedication to the university, and how the family fits its own definition of family," said Janie Failor, Chimes co-chair of selection and events. "The Works family has been dedicated to K-State for more than 152 years, and we are so excited to honor them as the 2019 Family of the Year."
Jane Works' five children — Bob, Virginia, Joe, Dick and Fred — all attended K-State, as have seven grandchildren. Eight of the family's spouses also attended or graduated from K-State. Continuing the tradition are grandchild Colby Works, senior in kinesiology, and great-grandchildren Cody Ballou, sophomore in political science, and Seth Barlow, freshman in aeronautical technology at Kansas State University Polytechnic Campus.
According to the family's application, while Jane Works always said her children could attend any university, her passion and loyalty to K-State were always apparent. Family members would often hear stories of how she drove a horse-drawn wagon into Manhattan each morning before her college classes to deliver milk to K-State's dairy and how she met and fell in love with George after he offered to put away her microscope after a chemistry lab class in Willard Hall.
"Jane Dodge Works espoused a family culture that encouraged her family members to be more than just students while at K-State," said John Works, Jane Works' nephew, who nominated the family for the award. "She encouraged her children and grandchildren to contribute and invest their time and talent to enhance both their K-State experience and better K-State for students who would follow."
Following Jane Works' example, members of the Works family have been involved in Student Governing Association, Blue Key Honorary, K-State Proud, New Student Services, Student Foundation Board, Student Alumni Board, and served as parent discussion group leaders for the K-State Alumni Association's For Sophomores Only event. Two family members also received the Dean of Student Life Outstanding Graduating Senior Award. They cherish K-State traditions such as traveling to bowl games, NCAA basketball games, tailgating, hosting watch parties, and a K-State Christmas tree decorated with K-State memorabilia.
The Works family also has shared its Wildcat pride across the globe in countries such as Australia, Bolivia, Cambodia, Chile, China, Morocco, Nepal, New Zealand, Peru, South Africa, Tanzania, Turkey and Vietnam. Family members have helped arrange for international students to visit K-State and meet with advisors, and provided other logistical and financial support to them.
"The Works family has influenced K-State greatly through its commitment and devotion to the university," said Dylan Roney, Chimes events and selections co-chair. "We are fortunate to have amazing support from involved alumni and families who make a lasting difference at K-State."
The following members of the family will accept the award:
From Humboldt: Joe Works, '71, and Janie Wollen Works, '71; Tony Works, '98, and Kate Vantuyl Works, former student, and their children, Eli, Avery and Owen; Josh Works, '05, and Jessa Talamantez Works, '01, and their children Jack and Cody Ballou; Dick Works, '75, and Karen Wiley Works, '76; and John Works, '81; Seth Barlow and Sophie Barlow; and James and Andrea Works, and their children Britnee, Ashlynn, and Kendall.
Fred Works,'79, and Judy Nott Works, former student, and their children Dylan, '14, Abby,'16, and Colby, Iola.
Virginia Works Petersen, '69, and Jeff Petersen, Manhattan.
Adam Works, '08, and Kayla Briggeman Works, '07, and their children Ethan and Eliza, Overland Park.
From out of state: Sarah Works McIntire, '12, '14, and Mike McIntire, '12, '14, and their daughter Charlotte, Houston, Texas.