Tickets now on sale: Friends of McCain Holiday Home Tour Dec. 8
Friday, Nov. 15, 2019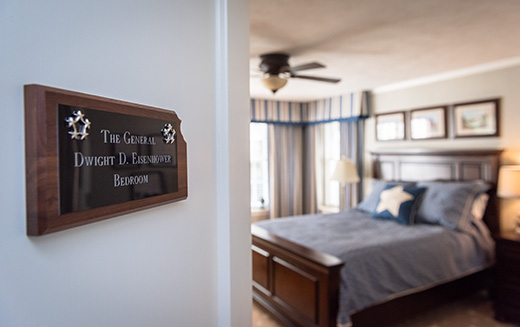 This year's Friends of McCain Holiday Home Tour on Dec. 8 includes the K-State President's Residence, which is full of history and features the updated Gen. Dwight D. Eisenhower Bedroom. The tour is 11 a.m. to 5 p.m. Dec. 8 and tickets are available now.
MANHATTAN — Tickets are now on sale for the Friends of McCain Auditorium McCain Holiday Home Tour. The popular biennial fundraiser for Kansas State University's McCain Auditorium will be 11 a.m. to 5 p.m. Sunday, Dec. 8.
Money raised will support McCain Auditorium's education and outreach activities.

Tickets are $20 in advance or $25 at the door and are available at several area business outlets, including 1419 Mercantile, 3039 Anderson Ave.; Alms Group Real Estate, 1102 Moro St.; Gatherings, 313 Poyntz Ave.; The Winged Lion, 300 Poyntz Ave.; and the McCain Auditorium administrative office on the K-State campus.

This year's tour features four area residences decorated for the holiday season. The K-State President's Residence on campus is full of history including updates to the Eisenhower bedroom. The Amanda and Eric Purdom residence on Poyntz Avenue is a historic home that has been expanded over the years and features casual classic décor. Pat and Paula Caffey's home on College Heights is known for its traditional exterior Christmas decorations, but now tour participants will get to see the inside, including a 1950s style diner. Sunset Cottage is a vacation rental near the K-State campus that has been restored and is managed by Capstone3D.

"The variety of homes and decorations are sure to inspire everyone who goes on the tour," said Todd Holmberg, executive director of McCain Auditorium.

The McCain Holiday Home Tour Committee is chaired by Julie Keenan. For more information on the tour, contact her at koenigkeenan@gmail.com or 210-875-7456.