May 7, 2019
Family and consumer sciences education to host Wild about FCS day
Submitted by College of Human Ecology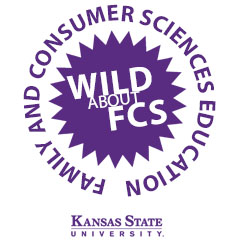 The family and consumer sciences education program, a shared program between the College of Human Ecology and the College of Education, will host Wild about FCS Day on Friday, Oct. 4, on the K-State Manhattan campus.
Wild about FCS Day is a daylong K-State experience where family and consumer sciences teachers introduce their students to the many opportunities that are a part of studies in family and consumer sciences. While students will get a flavor for what to expect as a K-Stater from students, alumni, faculty and staff, teachers will get a professional development boost to their Pathway content knowledge from faculty ready to share their expertise. Importantly, we will launch the inaugural "Challenges and Best Practice Strategies" — an interactive workshop to address challenges faced in the FCS classroom.
The event will feature sessions for teachers focusing on topics such as early childhood development; fashion, apparel, and interior design; and discussions on professional development for family and consumer sciences educators. Students will have the opportunity to hear from K-State faculty on topics such as inspired teaching, passion in action and they will learn about a day in the life of an educator. A keynote session also will be available for both groups on the importance of teaching family and consumer sciences. The day will round out with lunch, tours of program and lab spaces and conclude with a K-State send-off.
Registration is $60 per teacher and includes two student registrations as well as lunch for participants. Additional students may attend with their teacher for an additional $15 per student. Registration is available online.

Wild about FCS Day is a professional development opportunity for teachers and provides them with knowledge they can use immediately in their classroom. Continuing education credit is also available if desired. Parking permits will be required for attendees. For more information on the event and a full itinerary, please visit the College of Human Ecology's website.