September 19, 2023
Agronomy professor Chuck Rice selected as Sigma Xi fellow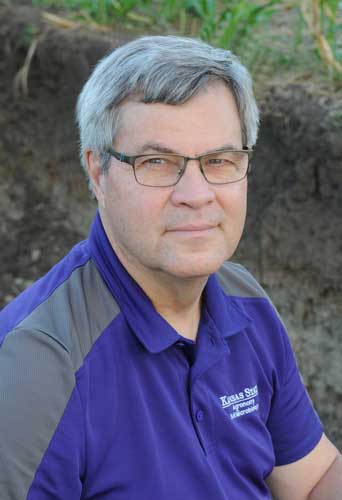 The agronomy department announces the selection of Charles "Chuck" Rice to the distinguished group of 2023 Sigma Xi fellows. Rice's remarkable contributions to the field of agronomy and his dedication to scientific research have earned him this prestigious recognition within the Sigma Xi community.
Rice, a prominent figure in the field of soil microbiology, has consistently demonstrated his commitment to advancing scientific knowledge and fostering innovation. As a university distinguished professor and holder of the Mary L. Vanier Professorship at Kansas State University, his research endeavors have spanned a wide range of topics, from soil microbiology and nutrient cycling to climate change and sustainable agriculture practices. His research has expanded our understanding of these critical areas and paved the way for practical solutions to address pressing agricultural and environmental challenges.
The Sigma Xi fellowship is a testament to Rice's outstanding achievements and his unwavering commitment to scientific excellence. With this new selection, he joins an esteemed group of researchers, scholars and experts who share a common passion for pushing the boundaries of knowledge and impacting our world.
Read more about Rice's career and his contributions to the field.
Loretta Johnson from the Division of Biology at K-State was inducted into the 2021 Sigma Xi fellows cohort. K-State is now one of very few universities with more than one Sigma Xi fellow. Johnson is co-director of the Ecological Genomics Institute. Her research is focused on ecological genomics, plant ecology and climate change.
Sigma Xi, the Scientific Research Honor Society, is the international honor society of science and engineering and is one of the world's oldest and largest scientific organizations. Scientists and engineers, whose research spans the disciplines of science and technology, comprise the membership of the society. Sigma Xi chapters can be found at colleges and universities, government laboratories, and industry research centers around the world. More than 200 Nobel Prize winners have been members.
The K-State chapter of Sigma Xi is a unique opportunity for scientists with diverse training to interact on campus. Please consider joining or renewing your membership. For more information, contact Ignacio Ciampitti, president at ciampitti@k-state.edu or Martha Mather, past president at mmather@k-state.edu.