September 19, 2023
Global workplace design leader Janet Pogue McLaurin to present APDesign Ekdahl Lecture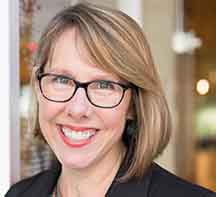 Janet Pogue McLaurin, principal and global director of workplace research at Gensler, will deliver a captivating lecture titled "Designing for the Human Experience" for the College of Architecture, Planning & Design, or APDesign, at Kansas State University. The event is scheduled to take place at 4:30 p.m. Wednesday, Sept. 20, in the Regnier Forum, 1117 Regnier Hall. This informative session is open to the public and free of charge.
McLaurin is a renowned figure in the field of workplace design, and her insights have significantly influenced Gensler's global Workplace Surveys and Workplace Performance Index, or WPI, client tool. The WPI measures space effectiveness and workplace experience, offering valuable insights for optimizing work environments. McLaurin has played a pivotal role in shaping innovative workplace strategies and environments for a diverse range of clients, including Vanguard, GSA, Capital One, Gallup and The Coca-Cola Company.
With nearly four decades of experience within Gensler, McLaurin's expertise extends across their Denver and Washington, D.C. offices. Her contributions to the industry have been recognized with her appointment as a fellow of the American Institute of Architects and her status as a registered architect and as a fellow of the International Interior Design Association. Over the past two years, she has also served on Gensler's board of directors and currently holds a position on the Practice Area Management Committee.
In her upcoming lecture, McLaurin will delve into the critical topic of "Designing for the Human Experience." Attendees can expect to gain valuable insights into creating workspaces that prioritize the well-being and productivity of employees, a subject that has become increasingly relevant in today's ever-evolving workplace landscape.
This event presents a unique opportunity for students, faculty, professionals and the general public to learn from a distinguished industry leader. McLaurin's presentation promises to be both enlightening and inspiring.
Gensler is a leading global design and architecture firm with a strong commitment to creating spaces that inspire, empower and innovate. Their research-driven approach has positioned them at the forefront of the industry, and they continue to shape the future of design and architecture.
The Oscar S. Ekdahl Distinguished Lecture Series in Architecture and Design brings the finest professionals in the design and planning disciplines to APDesign and the K-State community. These individuals are selected to avail faculty, staff, students and regional professionals of the potency of design and planning in addressing the issues we face as a global society. The series honors Ekdahl, who received his Bachelor of Architecture from K-State in 1933 and was a founding partner in Ekdahl, Davis, Depew, Persson Architects PA in Topeka.