May 10, 2023
Landscape Services kick off FEMA Tree Planting Project with president and first lady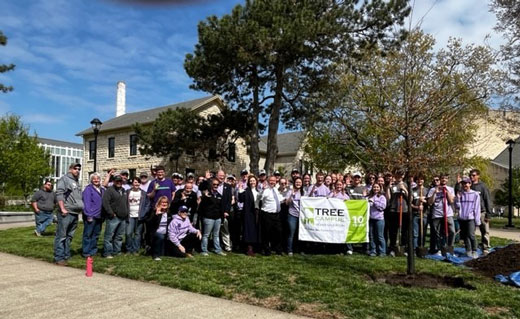 From left: President and First Lady Linton join Facilities employees in celebrating K-State's 10th consecutive year being designated a "Tree Campus - Higher Education" by the Arbor Day Foundation.
On Dec. 15, 2021, record-breaking winds caused widespread damage across the Great Plains states, including Kansas.
The Kansas State University campus was no exception, as straight-line winds in the area exceeded 70 mph. During the event, the campus sustained considerable tree damage, including rampant tree canopy injuries and a loss of 15 established trees. Cleanup efforts began immediately and continued for weeks following the storm event.
Due to the widespread nature of the windstorm, the event was declared a FEMA-eligible occurrence that would allow for funding to be available to assist in dealing with the storm's aftermath.
Through this funding and much effort, K-State is positioned to have 100 new trees planted across the campus to help restore our campus forest. K-State's campus trees serve as an invaluable educational resource for various departments that use them to study identification, pathology, design and other tree features and functions. The Manhattan campus is designated as an arboretum and has been given a Tree Campus — Higher Education designation by the Arbor Day Foundation for the 10th year in a row. This program began when the foundation began to recognize "green" colleges and universities in 2008.
The FEMA Tree Project, which includes the planting of 100 new campus trees, will commence in the coming weeks and is scheduled to be complete by June 15. The planning effort for identifying species and locations for replacement trees was based heavily on the campus' tree inventory, which includes GPS coordinates, species and cultivar for nearly all trees on campus. Upcoming planting efforts will include both deciduous and evergreen specimens and more than 35 species.