Science teachers invited to participate in K-State's QuarkNet physics education outreach program
Wednesday, May 10, 2023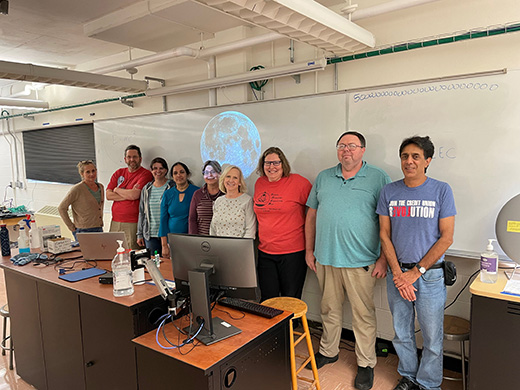 The K-State physics department is giving science teachers an opportunity to enhance their teaching skills, resources and professional networks through the free QuarkNet program. Pictured are K-State QuarkNet 2022 participants from around Kansas; Kansas City, Missouri; and Arkansas. | Download this photo.
MANHATTAN — Science teachers in Kansas and surrounding states can enhance their teaching abilities, resources and professional networks through Kansas State University's free QuarkNet program.

The nationwide outreach program, geared mostly toward high school science teachers and students, is offered by the physics department in the College of Arts and Sciences.
QuarkNet supports science education by helping teachers develop their knowledge and skills and incorporate real research in the classroom. It is funded by the National Science Foundation and the U.S. Department of Energy.
"Teachers learn firsthand about cutting-edge physics research and can participate in research projects," said Bharat Ratra, Kansas State University distinguished professor of physics and K-State QuarkNet coordinator. "They get to engage their students in high energy physics through field trips to K-State and through science projects in their schools, using equipment on loan from Fermilab."
K-State QuarkNet welcomes participants from not only high schools but also community colleges and middle schools, including private schools. Ratra hopes to draw more participation from outside of Manhattan, including Abilene, Clay Center, Holton, Junction City, Lindsborg, Marysville, Salina, Topeka, Wamego and elsewhere in Kansas, as well as Arkansas, Iowa, Missouri, Nebraska and Oklahoma.
"QuarkNet has opened up a vast area of physics to my students and me (and offered) a great opportunity to learn about the physics that is done today, at no cost to myself," said Renee Teague, a teacher at Cheney High School, Cheney. "If not for QuarkNet, I would not be nearly as likely to teach about modern physics, and certainly not with the knowledge base I have gained through the lectures and field trips."
QuarkNet teachers can participate in group trips to national laboratories, collaborative research projects with teachers around the world and multi-day camps at Fermilab, the U.S.'s particle physics and accelerator laboratory in Batavia, Illinois. They can also borrow cosmic ray muon detectors from Fermilab.
"K-State QuarkNet participants are currently working on a project to measure cosmic ray muon rates and correlate the rates with atmospheric temperature and pressure changes as weather fronts move through Kansas," said Ratra. "During the 2017 solar eclipse, some participants used their detectors to study the effect of moon blockage on the muon emission rate in the direction of the sun. One group even made it to finals in an international NASA high school competition in which they used their detector to research shielding materials for manned missions to Mars."
K-State QuarkNet also offers a daylong Masterclass on the Manhattan campus in which students analyze real particle physics data taken by the Compact Muon Solenoid detector at the Large Hadron Collider at CERN in Switzerland. Up to 200 students can participate.
"For my students to get the chance to investigate something real, as they put it, in high energy physics, is very exciting—so much so that it inspired many to choose STEM careers, some in physics," said Teague.
Also offered are weeklong summer workshops for teachers. Participants engage in hands-on physics activities through classes on electromagnetic waves, light and lasers; dark matter; gravitational waves; statistics and error analysis; and more. Participants can earn graduate physics credit from K-State.
K-State QuarkNet covers lodging and transportation expenses and provides stipends for QuarkNet teacher activities done outside of school time.
More information about K-State QuarkNet is available by contacting Ratra at ratra@phys.k-state.edu.