May 2, 2023
'Dreamgirls' in KC helmed by theatre professor Cranford featuring K-State alumni
Submitted by the School of Music, Theatre, and Dance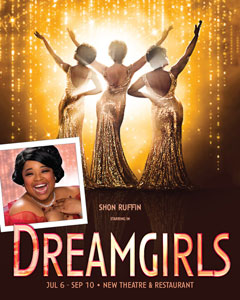 The New Theatre in Overland Park, Kansas will produce the hit Broadway musical "Dreamgirls" this summer with K-State theatre Professor Jerry Jay Cranford directing alongside choreographer Courtney Germany.
Rehearsals begin June 12, and the production runs from July 6 to Sept. 10.
The company performs eight shows per week, Tuesday through Sunday, under the union contract guidelines of the Actors' Equity Association.
Many K-State alumni from the School of Music, Theatre, and Dance were selected for "Dreamgirls." K-Staters in the company of 22 actors are Shon Ruffin as Effie; Donovan Woods as Curtis; Darrington Clark as James "Thunder" Early; Randy Rhoten as CC; Chelsea Turner as ensemble/Michelle cover; Ceslie Parker-Waller as Swing; and Alyssa Byers as Charlane/ensemble. Byers most recently starred in the K-State spring 2023 opera as Cendrillon. Alumnus Chase Rossman serves as technical director for the theatre.
"I'm always so proud of our students' preparation and performance in the professional auditions!" Cranford said.
The New Theatre team has been providing high-quality entertainment to the Kansas City area since the 1970s. It is the largest and most successful theatre restaurant facility in the United States seating 700 people per performance and normally selling out with a waiting list. The New Theatre was recognized by the Wall Street Journal as "the best dinner theatre in the country."
The New Theatre Scholarship Guild has been very supportive of the K-State theatre program, providing two annual scholarships to theatre students.