April 12, 2023
Retirement reception for Michael Haddock, associate dean of K-State Libraries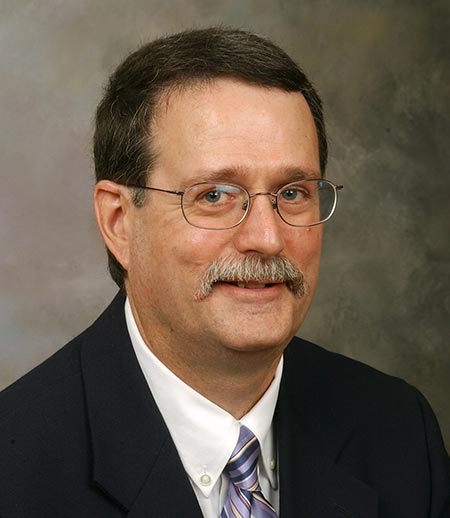 Michael Haddock, associate dean of research, education and engagement at K-State Libraries, has announced his plan to retire later this summer. A reception to celebrate Haddock's time with the university will take place from 3:30-5 p.m. Wednesday, May 3, on the fifth floor of Hale Library.
All are welcome to attend. Light refreshments will be served.
During his tenure as associate dean since July 2016, Haddock has helped guide K-State Libraries through many challenges, most notably the May 2018 fire at Hale Library, which led to the building's closure for 15 months. Haddock closely worked with several entities and organizations involved in the reconstruction process.
"Mike has had a wonderful career at K-State that has elevated the role of the Libraries and furthered our support for teaching, learning and research," said Joe Mocnik, dean of Libraries. "Throughout his various roles, he has been a strong advocate, skilled manager and dedicated mentor who has made many contributions over the years. Perhaps his most important legacy is the outcome of his tireless work on the post-fire recovery and restoration of Hale, which laid the foundation for a bright future of the next-gen innovative Libraries."

Before his appointment to associate dean, Haddock worked at the Libraries in multiple roles, including chair of the Libraries Sciences Department, agriculture librarian and reference librarian. In 2005, Haddock received the inaugural Brice G. Hobrock Distinguished Faculty Award presented by the Friends of the K-State Libraries. Since last year, Haddock has served as the interim faculty director of the University Press of Kansas.

In addition to his work at K-State, Haddock has published three award-winning books on botany in Kansas and has been named a Kansas Notable Book Author. His book,"Kansas Wildflowers and Weeds," co-authored with Craig Freeman and Janét Bare, was named a 2016 Kansas Notable Book and received the Jan Garton Prairie Heritage Award.

Among Haddock's many honors are receiving a Stephen L. Timme Excellence in Botany Award, presented by the Kansas Native Plant Society, three Professorial Performance Awards from K-State and the Sheldon and Virginia Cohen Memorial Award for Service to KNPS, presented by the Kansas Native Plant Society.

Haddock earned a bachelor's degree in German from Kansas State University and a master's in library science from Emporia State University.

A search for Haddock's replacement will begin in the near future with additional details forthcoming.