March 22, 2023
Women's History 365: Meet Lailah Bias and Dera Naidoo
Submitted by Office of the Vice President for Diversity, Equity, Inclusion, and Belonging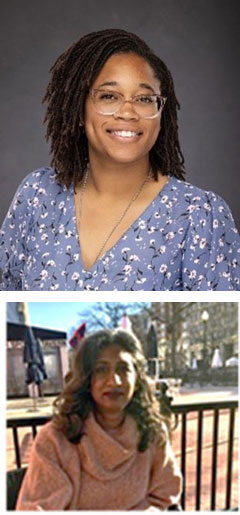 In honor of Women's History 365, read more about the achievements of two outstanding female students: Lailah Bias and Dera Naidoo.
Bias, freshman in animal sciences and industry, has has been intentional about her career goals from any early age. As a high school student, her community service included, but was not limited to, founder of the Longhorn Council BSA Group-Eagle Scout and Venturing Crew 205. She amassed more than 1,000 hours in the Twin Arrows National Youth Leadership Training Program, volunteered more than 400 hours at Fort Worth animal shelters and accrued more than 300 hours with Boy Scouts of America. Bias earned a Bronze and Silver award with Girl Scouts of the USA. Leadership continues to be a foundational focus for her at K-State. She participates in four organizations while maintaining a 4.0 GPA. Bias was recognized by the College of Veterinary Medicine's early admission program.
Naidoo, graduate student in adult learning and leadership, strongly believes her postgraduate degrees in applied psychology and environmental education introduced, developed and supported her progression toward a wide range of skills that are transferable to both her educational objectives and employment. Naidoo believes learning beyond compulsory education has become essential for economic, social, political and cultural well-being. The adult learning and leadership program holds the key to entry into institutes that support continuous learning and the potential to inspire change, growth and agency. She wants to design, implement, evaluate and review curriculums for adult education programs and serve as a consultant to provide support and guidance to organizations when structuring and creating training and learning and development programs.