March 10, 2023
Hackemann-Bahlmann to present and chair panel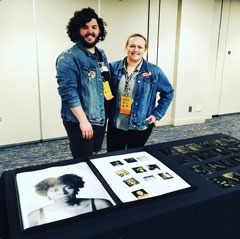 Rebecca Hackemann-Bahlmann, associate professor of photography, will present and chair a panel, "Photography and the Metaverse(s), Web 3.0, NFT's, Public Spaces in VR for Artists: A Critical View and Making Sense of it," at the Society for Photographic Education Conference in Denver.
Her co-presenters are renowned individuals in the field of new media art, Patrick Lichty and Perry Hoberman.
Twelve photography students and Troy Colby, adjunct professor in photography, will also attend the conference. The three-day conference will include a trade floor with pro vendors and more than 30 historical and contemporary presentations on photography by artists, theorists curators and technical experts.