February 22, 2023
Coetzee to present March 1 Distinguished Graduate Faculty Lecture
Submitted by Miranda Schremmer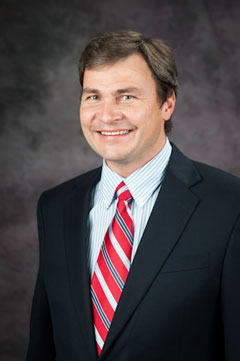 The Graduate School recognizes Hans Coetzee, university distinguished professor and head of the anatomy and physiology department, as a 2022-2023 Commerce Bank and W.T. Kemper Foundation Distinguished Graduate Faculty Award recipient.  Coetzee will publicly present his work at 1:30 p.m. Wednesday, March 1, at Town Hall, 114 Staley School of Leadership.
Coetzee will present "Advancing Farm Animal Welfare with Improved Methods to Recognize and Manage Pain."
As an internationally recognized scholar, Coetzee has made high-impact contributions to improving the health and welfare of farm animals. His laboratory developed drug protocols that have positively affected the welfare of more than 10 million calves that experience painful management procedures each year. Recently, Coetzee's research discovered methods to reduce pain at processing, which affects more than 100 million piglets each year, by delivering pain relief medications through milk from the sow to the piglets.
Coetzee has been successful in securing more than $21.5 million in research funding. He authored and co-authored 209 peer-reviewed manuscripts with more than 6,879 citations. For perspective, since the start of his academic career, he averages one publication per month and $1 million in funding each year.
Coetzee's contributions to graduate education at K-State include establishing the A&P Graduate Assistantship Program. This program provides an opportunity for new graduate students to rotate through research laboratories using departmental funding for their first year of the program, resulting in a threefold increase in the number of doctoral students enrolled in the physiology program since 2018. Coetzee has mentored 28 graduate students, 10 as a major professor and 18 as a committee member.
Coetzee earned his doctorate in veterinary microbiology from Iowa State University in 2005. In 2022, he received the title of university distinguished professor, a lifetime title representing the highest honor at Kansas State University awarded to faculty. Coetzee is nationally and internationally recognized for his work, including being the youngest recipient of the American Veterinary Medical Association Animal Welfare Award in 2017.
All are invited to attend Coetzee's presentation. Light refreshments will be served.