February 22, 2023
KCARE expands watershed specialist team in northeast Kansas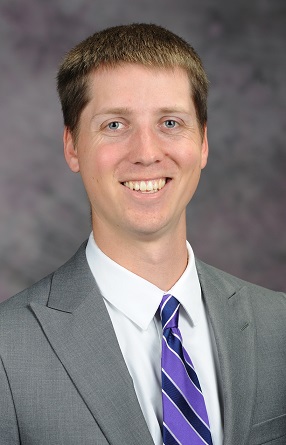 The Kansas Center for Agricultural Resources and the Environment, or KCARE, is adding a member to its team to support water quality efforts in Kansas.
As an extension watershed specialist, Daniel Skucius will cover the northeast region of Kansas and will provide leadership in developing and implementing science-based educational programs. He will work closely with local landowners and producers to adopt and implement best management practices to safeguard water quality.
"Daniel's experience within K-State Extension gives him a solid perspective on how to create meaningful relationships with our KCARE stakeholders," said Susan Metzger, KCARE director. "His enthusiasm for balancing the use of our state's natural resources with the protection of those resources will make him an important member of our watershed specialist team."
Skucius previously served as the 4-H youth development agent in Pottawatomie County, where he was the county program leader and delivered educational programming for the county's 4-H youth. In his new role, he plans to build on the fundamentals he learned while working in extension and with 4-H families.
"I am very excited to continue to work in the KSRE community, especially as an extension watershed specialist, where our team will be working to protect a resource that impacts every single person in Kansas," Skucius said.
Skucius said that he looks forward to spending much of his time in the community to communicate the goals of the watershed specialist program.
"Water is something that affects every one of us, every day, and KCARE's work has a real impact, whether that's a small stream or Tuttle Creek reservoir," he said. "I look forward to taking the science of water quality and helping to make the topic relatable in the community."
Skucius is a graduate of Kansas State University, with a bachelor's degree in wildlife and outdoor enterprise management. He will be the fifth watershed specialist supported by KCARE with assistance provided through Section 319 of the Clean Water Act.
The K-State Extension watershed specialist model is a proactive, multi-agency, private-public partnership. Restoring water quality in Kansas requires a fundamental change in behavior and practices toward the land and water, and facilitation is needed from unique people with expertise in the area of agriculture and water with the ability to build a rapport with landowners.