December 6, 2022
K-State Libraries librarian releases Hale Library-inspired musical composition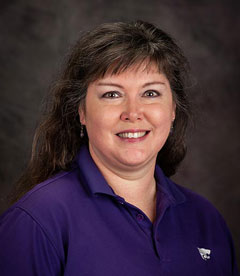 Laurel Littrell, planning and assessment librarian at K-State Libraries, recently released her latest musical composition, "Hale! Hale! Hale!"
The piece had its world premiere performance in November at Hale Library, the physical inspiration for the score. "Hale! Hale! Hale!" was performed by the K-State Faculty Brass Quintet at the first concert in this year's Hale Library Concert Series, an annual event organized by the Friends of the K-State Libraries.

"Hale! Hale! Hale!" is a three-movement piece composed in recognition of the May 22, 2018, fire at Hale Library and the subsequent effort and work that went into renovating and restoring the heart of K-State's campus. The title is a play on words of the K-State Alma Mater, composed by H.W. Jones in 1888.

"Before the fire happened, we had T-shirts that said, 'Hale Hale Hale Alma Mater!' and I liked the play on words that connected Hale Library with the alma mater," Littrell said. "When Dr. Craig B. Parker talked to me about writing a new piece to celebrate the return of the Hale Library Concert Series, I immediately thought of a lively brass fanfare that would include a rendition of the alma mater as a recurring theme."

The three movements of the piece depict celebrating the present restored Hale Library with joyful fanfare, remembering the past disasters of fire and pandemic through dissonance, silence and determination, and hope for the future.

"The themes emerging in 'Hale! Hale! Hale!' include celebration, inspiration and the familiar alma mater," Littrell said. "The second movement portrays the sadness and despair of the fire by using the brass instruments to depict fire alarms and sirens, particularly through the trombone's ability to play glissandos. From this grows a triumphant melody meant to propel us forward in this new, post-pandemic world that we find ourselves in, overcoming many challenges and building our resilience."

Littrell, originally from the Clifton and Clyde area of Kansas, earned both her bachelor's in music and her master's in composition from K-State. She later earned her doctorate in composition from the University of Missouri-Kansas City and a master's in library science from Emporia State University. In addition to previously serving on the K-State music faculty, Littrell has served in various positions at K-State Libraries. She is also the immediate past president of the K-State Faculty Senate.

Littrell's solo, chamber and orchestral works have been performed throughout the United States and internationally.