December 6, 2022
Manhattan Tuba Christmas is coming soon
Submitted by School of Music, Theatre, and Dance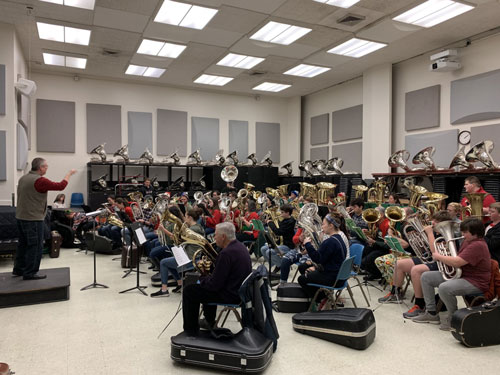 The annual Manhattan Tuba Christmas will be at 3 p.m. Saturday, Dec. 10, at the Manhattan Town Center. The event is sponsored by the K-State Tuba and Euphonium Studio, which is part of the School of Music, Theatre, and Dance.
Tuba Christmas is a special time of the year when persons of every age who play the tuba, euphonium or baritone horn, get together to play Christmas carols for the public. Tuba Christmas concerts occur around the world from late November until Christmas Day. The Manhattan Tuba Christmas has been hosted in Manhattan for 32 years. Everyone is invited to come hear the amazing sound! If you do play tuba, euphonium or baritone, we cordially invite you to participate in this year's event. You can find more information about the event as well as the registration and rehearsal times at k-statetuba.com/tuba-christmas.html.
Merry Tuba Christmas!