October 28, 2022
Faculty and graduate students present at Midwest Educational Research Association conference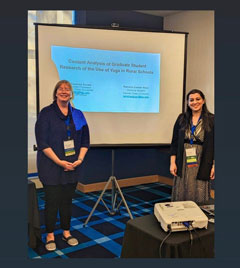 Suzanne Porath, assistant professor of curriculum and instruction, and Ramsha Usman Khan, doctoral student, both from the College of Education, and Taylor Vargo-Simonson, doctoral candidate in psychological sciences, presented at the Midwest Educational Research Association's annual conference in Cincinnati, Oct. 19-21.
Porath and Usamn Khan's research-in-progress presentation was titled "Content Analysis of Graduate Student Research of the Use of Yoga in Rural Schools." Vargo-Simonson's research-in-progress presentation was titled "Application-based Instruction: Are there Long-Term Benefits for Students?" Porath also presented research in progress on "Digiphrenia and Educators: Navigating the Fractal Self."
The Midwest Educational Research Association is a regional affiliate of the American Education Research Association and brings together various entities in the field of education, such as teachers and administrators from K-12, higher education faculty, graduate students and community organizations to discuss and reflect upon the theme "Education and COVID-19: Changing Demands on Education."