October 28, 2022
Architectural engineering student selected for AISC scholarship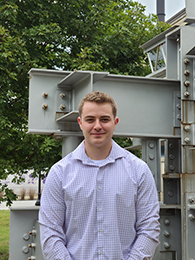 Cameron Hicks, senior in architectural engineering from Lee's Summit, Missouri, has received a $5,000 American Institute of Steel Construction Education Foundation Scholarship for the 2022-2023 school year.

The American Institute of Steel Construction, or AISC, is headquartered in Chicago and is a nonprofit technical institute and trade association established in 1921 to serve the structural steel design community and construction industry in the United States.

To be eligible for the scholarship, applicants must be undergraduate juniors, seniors or graduate students interested in structural engineering and construction. They must also be full-time students majoring in civil or architectural engineering and enrolled in an accredited university program in the United States.

"I applied for the AISC scholarship because I enjoy designing steel structures and saw this as a great opportunity to apply for a high-caliber scholarship from our industry," Hicks said.

Classes and internships have helped Hicks confirm his career choice as a structural engineer. Along with excelling in the classroom, he serves as president of the Structural Engineering Association of Kansas and Missouri.

"Cameron has developed as a student with his understanding of the basic theoretical knowledge and ability to apply it to solve engineering problems," said Kimberly Kramer, professor and G.E. Johnson construction science chair for the GE Johnson Department of Architectural Engineering and Construction Science.

Hicks served as a steel bridge competition team co-captain in 2021-2022, helping lead the team to a second-place finish at the American Society of Civil Engineers Mid-America Student Symposium regional competition in April. The event challenged participants to create a one-tenth-scale steel bridge of approximately 20 feet in length.

"I chose architectural engineering because I have always been fascinated with every aspect of our structures, especially the structural systems," Hicks said. "This major allows for an understanding of integrated building design and how decisions affect someone else."