October 28, 2022
Halloween drag performance to follow Oct. 29 'Head Over Heels' musical
Submitted by Jerry Jay Cranford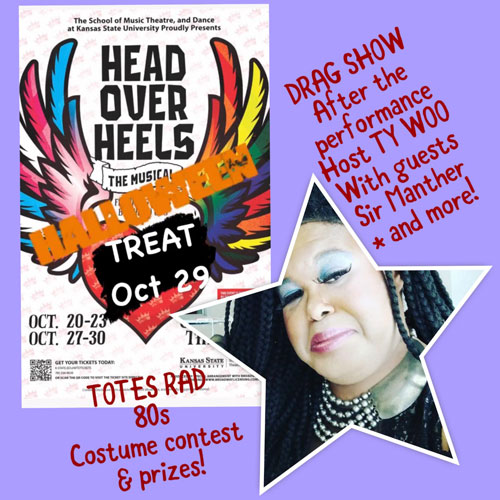 As a Halloween treat, K-State Theatre will host a Halloween Drag Show and Totes Rad '80s Costume Contest following the performance of "Head Over Heels: The Go-Go's Musical" at 7:30 p.m. Saturday, Oct. 29, in Chapman Theatre at Nichols Hall.
The event is free with your Saturday, Oct. 29, show ticket or a suggested $10 donation without a ticket. The evening will be hosted by Ty Woo, with special guest performers including Sir Manther. Wear your best '80s costume and you could win a $50, $25 or $15 gift card to a local restaurant.
The K-State School of Music, Theatre, and Dance will present "Head Over Heels: The Go-Go's musical" at 7:30 p.m. Thursday-Saturday, Oct. 27-29 and 2:30 p.m. Sunday, Oct. 30.
For information and tickets visit ksu.universitytickets.com/.