October 28, 2022
Indian Students Association celebrates Garba and Diwali
Submitted by Indian Students Association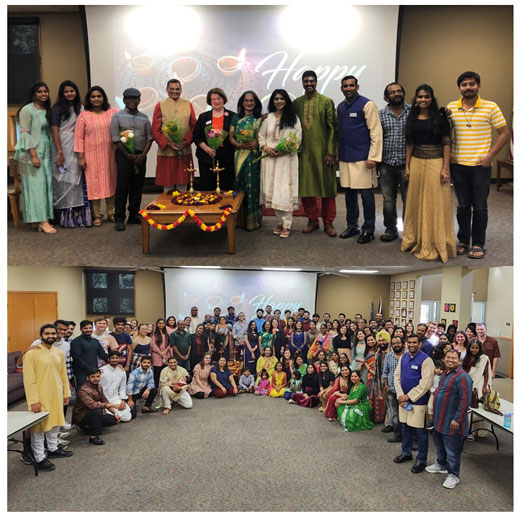 The Indian Students Association at Kansas State University, a registered independent student organization, celebrated Garba dance and Diwali on Oct. 22 at the Frith Community Center in Jardine Apartments, joined by community members from K-State and Manhattan.
Garba is a type of dance that is celebrated during the Navratri holiday, which spans over nine days. Garba is danced to honor the Goddess Durga who is associated with knowledge, strength and protection with fun upbeat rhythms and music. Diwali is celebrated all across India as well with different regions celebrating different stories. In general, it symbolizes the fight of light over evil and its victory. The event itself was a big success, with more than 100 people in attendance and lots of food to share.
To help mark the importance of both these events, the Indian Students Association invited Roman Ganta, university distinguished professor in the College of Veterinary Medicine; Suhasini Ganta; Usha Reddi, Manhattan city commissioner; and Linda Morse, mayor of Manhattan, to be the distinguished chief guests for the ceremonies.
The event also featured notable guests, including Sarwan Kumar Dubey, Indian Council of Agricultural Research-Indian Institute of Soil and Water Conservation, India, and Ramasamy Perumal, professor of agronomy at K-State.
Vidya Nadar, Indian Students Association vice president, welcomed guests with an overview of the importance of Garba and Diwali. All the invited guests along with the association's advisor inaugurated the event by lighting a traditional lamp. All of the invited guests gave remarks during the formal part of the program.
The program concluded with a sumptuous potluck meal and fellowship time.
According to the Indian Students Association, the event was a great, grand success. The Indian Students Association dedicates this success to its team members and active volunteers for their hard work.
Indian Students Association team members are Deepesh Agarwal, Vidya Nadar, Prudhviraj Dhanapala, Supriya Jha, Debolina Dasgupta, Sai Prathyusha, Madhulika Reddy, Annika Bhatt and Sri Aditi Challagulla.