August 19, 2022
Ennis Rios new coordinator of Military Affiliated Resource Center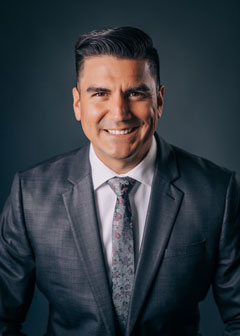 Ennis Rios started as the coordinator of the Military Affiliated Resource Center on July 11.
Rios served 15 years in the U.S. Navy as an information systems technician specializing in computer, radio and satellite communications. Serving aboard ships and in the Naval Special Warfare community, he achieved the rank of chief petty officer. Upon leaving the military, Rios attended community college before he transferred and graduated with a Bachelor of Science in geographic information science technology in 2019 and a master's degree in water management and hydrological science in 2021 from Texas A&M University.
As the Military Affiliated Resource Center coordinator, Rios and his staff are the central points of contact for current or future military-connected students seeking information about benefits and programs available to them. He also manages the center's physical location in Room 217 of the K-State Student Union, which provides a space for military-affiliated students to access resources, study and build community with others who have kindred experiences.
"After the Navy, I knew I wanted to attend a university, but I had little direction on how to get started and how to use my benefits," Rios said. "I worked with a veteran resource and support center on campus. I would not have been so successful without their guidance. I am excited to be on the other side now, serving military-affiliated students — helping them navigate their own college experience."
Rios, an Olathe native, joined the Navy in 1999 and completed basic and information technology training in Great Lakes, Illinois, before reporting to his first duty station aboard the USS Chancellorsville in Yokosuka, Japan. After his three-year tour ended, he spent eight years in San Diego at various duty stations until joining the Naval Special Warfare community at Mobile Communications Team One. He deployed to Ramadi, Iraq, in support of Operation Iraqi Freedom. His final duty station was in Stuttgart, Germany, with Naval Special Warfare Group Two. His primary role was providing satellite and radio communications support to SEAL and Special Boat Teams operating in the European theater.
After leaving the Navy in 2015, Rios attended Del Mar Community College in Corpus Christi, Texas, before transferring to Austin Community College in Austin, Texas. Rios transferred to Texas A&M University to complete his undergraduate degree in geographic information science technology. While at A&M, Rios was a member of Delta Company, a combat veteran outfit in A&M's Corps of Cadets. He was also a member of the Ross Volunteers, a group that serves as the Texas governor's honor guard. In his senior year, he served as the deputy corps commander, leading and mentoring nearly 2,300 cadets.
"I benefited greatly from veteran resource centers during my academic journey," Rios said. "My hope is to grow the Military Affiliated Resource Center into a one-stop shop for military-affiliated students to get the same level of support that I experienced, from application to vocation. I want Kansas State University to be the destination for military-affiliated students seeking higher education in Kansas. We've got work to do."