New university scholarship program increases affordability and access
Friday, Aug. 19, 2022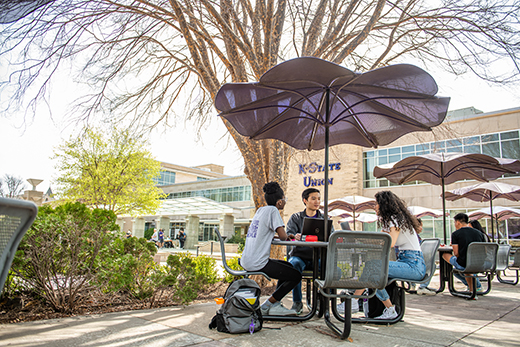 Kansas State University is taking steps to make college more affordable for Kansas residents and nonresident freshmen and transfer students. Incoming Kansas freshmen with a

minimum 3.95 unweighted GPA and a minimum 32 ACT score or 1420 SAT score, are eligible for an automatic general scholarship value of $22,000 over four years.

| Download this photo.

MANHATTAN — A new scholarship program at Kansas State University addresses affordability for new incoming in-state and out-of-state undergraduate students who plan to start at K-State beginning summer/fall 2023.

The in-state scholarship program offers new opportunities for incoming undergraduate students who plan to attend the Manhattan, Salina or Olathe campuses. The top general university in-state award for incoming freshmen, which requires a minimum 3.95 unweighted GPA and a minimum 32 ACT score or 1420 SAT score, has increased to a total award value of $22,000 over four years. This is one of the highest merit scholarship awards in the state that is automatically awarded when a student applies for admission by the priority application date.

The new in-state program also provides a transparent GPA-only pathway to achieve an academic scholarship, offering students the opportunity to earn scholarships without an ACT or SAT score.

For out-of-state freshmen and transfer students who plan to attend the Manhattan or Salina campuses, the new Wildcat Nonresident Award will be available to domestic and international students beginning in summer/fall 2023. This award, which is automatically granted to eligible degree-seeking students who apply by the priority application date, reduces the nonresident portion of tuition from between 50% to 100% for eligible students based on unweighted GPA, with no test score required. A 100% reduction means a student's tuition will equal in-state rates.

The Wildcat Nonresident Award joins the successful Missouri Match Tuition Award in K-State's scholarship lineup. To receive an award equivalent to in-state tuition, incoming freshmen from Missouri must have a minimum 3.25 overall unweighted high school GPA and a minimum 22 ACT or 1100 SAT composite score. Incoming transfer students must have a minimum 3.25 cumulative GPA from their current college or university.

"With the success of our Missouri Match program, we wanted to provide an opportunity for students in any state across the nation to attend K-State," said Karen Goos, vice provost for enrollment management. "As a top-ranked R-1, land-grant university with a high rate of success, we want to provide all students with talent and promising leadership potential the opportunity to earn a prestigious K-State degree."

Each student's application for admission is automatically reviewed for the university's general scholarship and award offerings, and the university affirms that students will be considered for the highest award possible. K-State's Kansas resident awards, Wildcat Nonresident Award and Missouri Match Tuition Award are all renewable as long as K-State's general renewal requirements are met by the student.

Incoming undergraduate freshmen remain eligible to also submit supplemental competitive scholarship award applications for both the Manhattan and Salina campuses. Newly admitted students — freshmen and transfer, domestic and international — are also eligible for college and departmental awards through the K-State Scholarship Network. The K-State Scholarship Network is also available to current students each year.

Students can learn more about all of K-State's scholarship offerings by visiting the Office of Student Financial Assistance's scholarship and award site.