August 18, 2022
Vontz selected for prestigious fellowship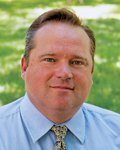 Thomas Vontz, College of Education professor and director of the Center for Social Studies Education, was named a Center for the Study of Federalism fellow. The Center for the Study of Federalism is a nonpartisan, interdisciplinary research and education institution dedicated to supporting and advancing scholarship and public understanding of federal theories, principles, institutions and processes.
He will serve a three-year term from 2022-25.
"Dr. Vontz has long been recognized by his peers at the highest levels," said Todd Goodson, professor and chair of the department of curriculum and instruction. "He is a critically important voice in a discipline that is perhaps more important today than it has ever been."
Center for the Study of Federalism fellows have served as advisers to foreign governments, testified before Congress, organized international conferences and presented lectures on themes of federalism. Vontz's participation will be especially impactful as the center attempts to expand its outreach to K-12 teachers.
"Federalism is often underappreciated and neglected in the K-12 curriculum," Vontz said. "The Center for the Study of Federalism hopes to work with K-12 teachers throughout the United States to help them develop a deeper understanding of federalism as a philosophical idea, form of government, perennial issue and cultural norm."