January 24, 2022
Weekly global religious, spiritual and nonreligious observance information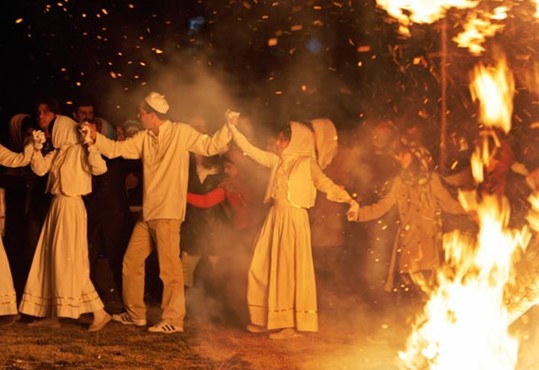 The President's Committee on Religion, Spirituality and Nonreligious Diversity presents the global observance information for Jan. 24-30.
Jan. 24, Sadeh Zoroastrian, pictured to right. One of the oldest traditions in Persia. The midwinter tradition involves lighting a large bonfire. The bonfire is to drive back the winder in defiance of Ahriman, or Satan. It is a deeply religious festival. Sadeh has a complex history and two different traditions are to be noted. By Yazd observed on the 100th day before Noruz. On the Fasli calendar, this would place it on Dec. 11. The other day, observed by Kermani Zoroastrians, is observed at the beginning of winter, Jan. 24. The chief preparation involves the gathering of wood and the whole community is supposed to contribute
Jan. 25, Christian Conversion of the Pharisee Saul to Christianity following his encounter with Jesus. After this encounter, Saul became St. Paul the Apostle and is traditionally recognized as one of the greatest early Christian disciples
The President's Committee on Religious, Spiritual and Nonreligious Diversity welcomes those of all global religious, spiritual and nonreligious commitments. Further, we welcome any suggestions, questions or other comments. Please contact the chair, Bev Earles, at earles@k-state.edu.