January 24, 2022
2021 Morse Award winners share their projects' success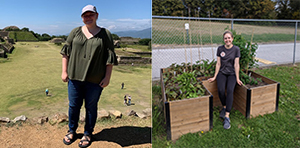 The winners of the 2021 Morse Family and Community Public Policy Scholarship from K-State Libraries at Kansas State University have completed projects involving public service and human rights in Missouri and Mexico.

Cade Ciesielski, a senior in philosophy, Spanish and pre-law, Valley Center, and Alissa Cunningham, senior in dietetics, Liberty, Missouri, each received the $3,000 Morse scholarship, awarded annually to support a project or internship that gives a K-State student the experience of working in community, state or federal governments or providing service in the nonprofit sector. The project or internship must encourage the development of public policy that improves the quality of family and community life.

Ciesielski went to Oaxaca, Mexico, to work with a human rights organization to understand international human rights laws and familiarize herself with Spanish legal concepts. She also learned about Mexican culture, language and opportunities to help address displacement and other human rights violations.

"As someone who would like to work with Spanish-speaking immigrants in my future career, it is important to me that I have experience living and working in Spanish-speaking communities," Ciesielski said. "This experience was the most impactful time of my four years at K-State, and I look forward to carrying this with me as I approach a legal career in service."

Cunningham started a Head Start garden project in the Kansas City, Missouri, area. Her goal was to work with young children and teach them beginner gardening skills, including how to start growing vegetables to try in meals. She worked with teachers to help the children grow plants from seeds in their classrooms, which they then transplanted into a small garden. They also explored topics such as composting, locating seeds and identifying insects that visit plants.

"My favorite memories from the project are from going outside with the children to just check on the garden or water the plants," Cunningham said. "As soon as one child has an interest, many more want to help hold the hose or pick the ripe cherry tomatoes. Seeing their excitement in getting involved and learning more about what they're growing has been the best part of this project."

Applications for the 2022 Morse scholarship are due March 25. All K-State undergraduates are welcome to apply, but seniors must be enrolled at K-State for the 2022 fall semester to qualify. More information on the award and application requirements can be found at lib.k-state.edu/morse-scholarship.