January 24, 2022
Manhappenin' magazine staff meeting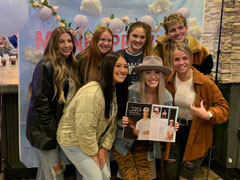 Please announce to your students this special opportunity.
Itching to dive into your creativity? Looking for an opportunity to build your career portfolio for internship and job HR decision-makers?
Manhappenin' — K-State's national award-winning lifestyle magazine — welcomes you to its first staff meeting at 7 p.m. Tuesday, Jan. 25, in the Kedzie Hall Library, across from the 106 Kedzie lecture hall. We're looking for page designers, a website editor and writers.
Get published!
This is a genuine chance to get creative, work as a team player, earn awards, enhance your written and verbal communication skills, and build your resume. Those are all the things employers look for.
Meet the exec team to learn what we're about and the opportunities offered. We have something for everybody. All academic disciplines are invited to have fun, learn something new and grow.