October 22, 2021
K-State Gardens to host annual poinsettia sale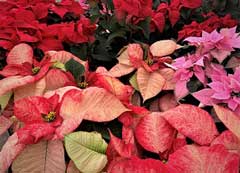 The 2021 Friends of The Gardens poinsettia sale will be a hybrid event with online and in-person sales.
The sale will include red, white and pink poinsettias and 10-inch centerpieces. Information about selling amaryllis is not definite at this time. Proceeds will benefit The Gardens.
Online sales will be live on Monday, Nov. 1. In-person sales will be from 10 a.m. to 2 p.m. Friday, Nov. 19.
For more information, go to k-state.edu/gardens/events/plant-sales.html.