October 22, 2021
APDesign graduate student co-authors paper on Maggie's Centers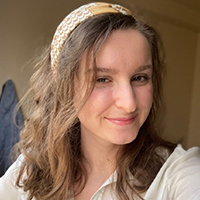 Anne Criddle, a fifth-year architecture graduate student, Cincinnati, Ohio, in the College of Architecture, Planning & Design, or APDesign, is one of three students who co-authored and presented the paper "Maggie's Centers: Places of Healing" at the second annual International Nursing Conference for Excellence in Healthcare Design: Local to Global Research, Design and Solutions, at the Clemson University School of Nursing.
Criddle's co-authors are 2021 APDesign architecture graduates Michaela Lindemann, emerging professional with Boulder Associates, Boulder, Colorado; and Lauren Uhls, architectural designer at Bernheimer Architecture, Brooklyn, New York. The paper is based on investigations completed as part of a 2021 spring semester seminar taught by Professor Susanne Siepl-Coates addressing relationships between the designed environment and human well-being. The seminar was generously underwritten by Louis A. Meilink Jr., a K-State alumnus and senior principal of Ballinger, Philadelphia.
The paper focused on biophilic design and evidence-based design, how it contributes to the healing process and how the centers promote good health and information using the 14 patterns of biophilic design principles developed by Terrapin Bright Green, a sustainability consulting firm. This includes visual connections with nature, dynamic and diffuse light, connection with natural systems such as ecosystems, material connection to nature, form and order. Additionally, the paper explored the built, natural, social and symbolic environments of three Maggie's Centers: Inverness, Leeds and Oxford, and those connections to the biophilic design principles.
Maggie's Centers were founded by Maggie and Charles Jencks and were inspired by Maggie's difficult experience with cancer. The centers are small buildings that offer support to cancer patients and their families. While each Maggie's Center is designed by a different architect — including some internationally known ones — their unique architectural expressions are all based on the same program brief — which Maggie and Charles Jencks established during Maggie's second bout with cancer. Thus Maggie's Centers lend themselves particularly well to studying the many ways in which architecture can support human well-being.
It is a charity that provides free cancer support and information located internationally with 30 centers worldwide.