October 22, 2021
Veterinary Health Center receives Rawhide Portable Corral as gift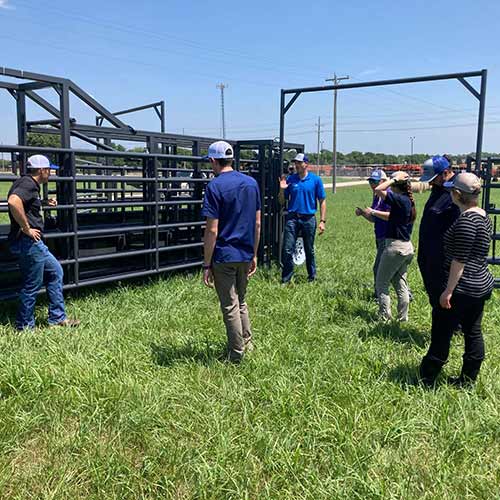 A new gift is putting Kansas State University veterinarians "out to pasture," and the benefit is improved health care for livestock. The Rawhide Portable Corral company in Abilene recently made a special delivery to the livestock services team at the Veterinary Health Center at K-State.
Owners John and Mary (Kohman) McDonald delivered one of their portable corral systems as a gift to the College of Veterinary Medicine. John Kohman is the inventor of the product.
"The Rawhide Portable Corral system is a very generous donation that enables the Kansas State Veterinary Health Center to offer an additional service to our livestock clientele," said Bryan Weaver, clinical assistant professor. "This very functional system allows us to provide working facilities to our clients who may not have such facilities on site as needed to work a set of cattle. This increases our speed and efficiency of palpating and vaccinating cattle in the field, while also greatly improving safety for the cattle, client, veterinary staff and students."
"We donated a corral to the veterinary college because John and I want the students to get hands-on use of our equipment so they can see how they could possibly utilize the system in their practices in the future," said Mary McDonald, who graduated from Kansas State University in 1984 with a bachelor's degree in animal sciences and industry. "Our corrals are all over the country, and many of our customers are veterinarians. They like using a corral when they go on site."
Weaver said that the Rawhide Portable Corral system may be hauled to a given location at the time of a herd working or can be set up ahead of time to allow clients to use the corral system to catch cattle prior to veterinary team arrival.
"Clients may contact the VHC to schedule a farm call and request use of the Rawhide system at that time for an additional fee," Weaver said. "The portable corral also happens to be beneficial for our 'Junior Surgery Lab' organized by our lab manager, Gina Jensen."
The surgery laboratory course incorporates several species throughout the year, such as canine, feline, equine and bovine, which helps students build their general surgical knowledge and skills. Weaver said many of the large-animal-focused students look forward to a portion of the course Bovine C-section Lab.
"The Bovine C-section Lab takes place over multiple weeks and allows students the opportunity to develop skills in areas such as general livestock surgical principles, local anesthesia and pain management, obstetrics, neonatal calf resuscitation, colostrum management, post-op care of both mother and newborn," Weaver said. "This lab requires a great deal of planning in the year leading up to the main event as cows must be selected and bred nine months prior so that calves are vigorous at the time of delivery. These pregnancies must later be confirmed by palpation and ultrasound, and general herd health practices — vaccinations, deworming, etc. — performed to ensure a healthy cow and calf."
Weaver said the portable corral system offers greater flexibility while working cattle throughout the year and improves safety for students who will eventually perform the C-section procedure during these activities.
"Another unique educational opportunity for fourth-year veterinary students at the VHC is the advanced palpation rotation led by Dr. Shaun Huser," Weaver said. "For six weeks in the fall, three groups of students palpate over 3,000 head of cows and heifers to grow their pregnancy diagnosis skills in preparation for their first day after graduation from veterinary school. Similar to the other field services offered by the livestock services team at K-State, the Rawhide Portable Corral system allows our students to palpate more cows in a wider variety of settings, all while improving safety for the cattle, clients and students alike."