March 12, 2013
Eyestone Lecture features Georgia Tech president
Submitted by Communications and Marketing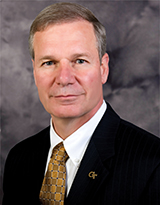 G.P. "Bud" Peterson, president of the Georgia Institute of Technology, will present "Changing Expectations for Higher Education -- Staying Ahead of the Curve" at 10:30 a.m. Tuesday, March 26, in Fiedler Hall Auditorium.
The event is a part of the university's College of Engineering Eyestone Lecture Series and is open to the public.
Peterson became Georgia Tech's 11th president in 2009. Under his leadership, the university community has developed and begun implementation of a 25-year strategic plan, Designing the Future, which envisions what the institute might be like on its 150th anniversary.
Prior to his appointment at Georgia Tech, Peterson had served as chancellor at the University of Colorado at Boulder and provost at Rensselaer Polytechnic Institute in New York, held faculty and leadership positions at Texas A&M University, and worked for both NASA and the National Science Foundation.
Peterson earned a bachelor's degree in mechanical engineering, a second bachelor's degree in mathematics and a master's degree in mechanical engineering, all from Kansas State University. He earned a doctorate in mechanical engineering from Texas A&M University.
Throughout his career, he has played an active role in helping establish the national education and research agendas, serving on numerous industry, government, and academic task forces and committees. He has served on a number of national accreditation agencies, with a focus on improving and assessing outcomes for higher education. He also has served on a number of congressional task forces, research councils and advisory boards, including the Office of Naval Research, NASA, the Department of Energy, the National Research Council and the National Academy of Engineering.
A distinguished scientist, Peterson was appointed in 2008 by President George W. Bush to serve as a member of the National Science Board through 2014, which oversees the National Science Foundation and advises the president and Congress on national policy related to science and engineering research and education. In 2010 he was named by U.S. Secretary of Commerce Gary Locke as a member of the National Advisory Council on Innovation and Entrepreneurship. In June 2011, President Barack Obama named him to the newly created Advanced Manufacturing Partnership steering committee.
Peterson is a fellow of both the American Society of Mechanical Engineers and the American Institute of Aeronautics and Astronautics. He is the author or co-author of 16 books or book chapters, 200 refereed journal articles and more than 140 conference publications. He also holds eight patents, with two more pending.
The Eyestone Lecture Series, established in 2000, is funded by an endowment of the late Fred and Mona Eyestone. Fred Eyestone, a 1941 Kansas State University graduate in electrical engineering, was a member of the College of Engineering Advisory Council and a Distinguished Service Award recipient.