March 12, 2013
Culinary workshop highlights important cooking techniques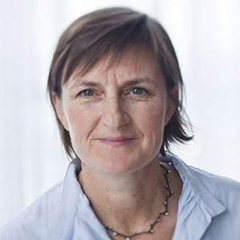 Chef Molly Stevens was on hand at Derby Dining Center March 7 and 8 to share her knowledge of roasting and braising with faculty, staff, students, alumni and members of the community.
Stevens, an editor, educator and James Beard Award-winning author, led the ninth annual department of hospitality management and dietetics Culinary Enhancement Workshop, "All-American Flavor." Her goal was to provide the audience with a better understanding of the two techniques that make items commonly found in American kitchens — such as chicken, pork and beef — into delicious meals.
"I don't eat meat every day, but I find that it's an interesting thing to cook and teach," said Stevens. "There's so much to learn about cooking it."
Among the dishes Stevens showcased were honey-glazed five-spice baby back ribs, sear-roasted salmon fillets with chive-shallot butter, zinfandel pot roast with glazed carrots and fresh sage and crispy butterflied roast chicken. Mustard-crusted roast potatoes and braised green beans with tomato and fennel also made the list, as well as a ginger mascarpone ice cream cake.
"I wanted to attend the workshop because I love to cook, obviously, and I had never roasted or braised before," said Alyssa Miller, junior in dietetics. "It was great to learn more about those two methods, and what they should be used for."
Samantha Norman, junior in hotel and restaurant management, agreed. "We've had an overview of this type of thing, but never in such detail, on this level."
The two-day annual workshop series was created in 2005 by Melissa Schrader, housing and dining services dietitian and instructor of hospitality management and dietetics, to provide students with an entertaining and educational look at food preparation.
"The Culinary Enhancement Workshop gives students opportunities to learn about things they wouldn't otherwise experience in their classes," said Schrader. "It gives dietetics students valuable food-preparation experience, and the hospitality management students gain a better understanding of the food service side of their industry, which provides them with a valuable tool that will allow them to better accommodate their clientele as professionals."