May 25, 2021
González to serve as acting associate provost for institutional effectiveness
Submitted by Communications and Marketing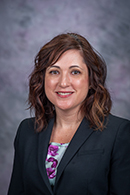 Provost and Executive Vice President Charles Taber has announced the appointment of Professor of English Tanya González as acting associate provost for institutional effectiveness and interim director of the Teaching & Learning Center, effective June 13. González will replace Brian Niehoff, who is retiring.

In appointing González, Taber said the associate provost position will be restructured this summer so that a search can be conducted to permanently fill the newly defined post.

"Dr. González's leadership experience with university academic, faculty and diversity initiatives will be invaluable during the transition period as we redefine the structure of and the nature of this permanent position in the provost's office," Taber said. "As acting associate provost, she will oversee the Teaching & Learning Center and our Honor and Integrity program. She also will coordinate academic affairs and faculty affairs activities as well as policy development and compliance in these areas."

González has a long record of service to the university. She was president of the K-State Faculty Senate from 2019-2020 and has been active on many key Faculty Senate and university committees dealing with budget and university climate and diversity issues, including as chair of the Faculty Senate Ad Hoc Committee on Social Justice and Equity and a member of the University Policy Review Committee, a part of the Action Plan for a More Inclusive K-State. She has been a member of the Faculty Senate Committee on University Planning, Climate Survey Steering Committee, various budget model review panels, President's Committee on Multicultural Affairs and is a Faculty/Staff Leadership Committee organizer. She also has served on search committees for the new university general counsel, vice provost for enrollment management and the vice president for student life, diversity and multicultural student affairs, among others. González served as interim director of the Office of Undergraduate Research & Creative Inquiry from fall 2018 to fall 2019 and has been active with the Developing Scholars Program.

In addition to her leadership at Kansas State University, González has been an active participant in the Association of Public and Land-grant University's Advisory Committee on Faculty Affairs programming and fora for faculty affairs and faculty development professionals in higher education since 2018. She is also a 2020 graduate of the HERS leadership institute, a leadership development program for women in higher education.

"Over the last several years my leadership and professional contributions have centered on work that promotes faculty and staff success, as well as promoting initiatives and policies to enhance our academic mission," González said. "I look forward to continuing this work during this transition time."

González has been active with diversity and multicultural organizations, including serving as chair of the College of Arts and Sciences Diversity Committee; president of Alianza, a faculty and staff organization that advocates the advancement of Hispanics and Latinos; KSUnite as an organizer and speaker; and a Midwest HALO Encuentro speaker and presenter. She received the Commerce Bank and W.T. Kemper Foundation Presidential Faculty and Staff Award for Distinguished Services to Historically Underrepresented Students in 2019.

Joining K-State in 2005 as an assistant professor and promoted to full professor in 2017, González teaches at both the undergraduate and graduate levels. She also serves as an affiliate faculty member to the American ethnic studies and women, gender, and sexuality studies departments. Her research and teaching interests include Chicana/o/x and Latina/o/x literature, media and cultural studies, immigration, feminist discourses and more.

González earned a bachelor's degree in literature from Scripps College and a master's and doctorate in English from the University of California, Riverside.