February 20, 2013
GIScience lecturer presents "A World without Spatial Thinking" Feb. 28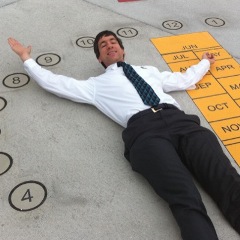 Joseph Kerski will present "Sleepwalking into the Future: A World without Spatial Thinking" at noon Thursday, Feb. 28, in Room 201 at the Leadership Studies Building.
Kerski's presentation is sponsored by the Center for Science Education, the Beta Psi chapter of Gamma Theta Upsilon, and the department of geography. Kerski's visit continues the successful GIScience Lecture Series, which was established in 2005 and has brought several international leaders in GIScience research and education to the Kansas State University campus for seminars, research meetings and student interaction.
The presentation will explore the significant effect of how a world lacking spatial thinking might address critical contemporary global and local issues such as natural hazards, energy, water, human health, agriculture and biodiversity. Kerski will illustrate how such issues affect our daily lives and demand transdisciplinary approaches and a spatial perspective to resolve.
Kerski, past president of the National Council for Geographic Education, is a leading figure in geographical information systems -- or GIS -- education who currently serves with the education team at Environmental Systems Research Institute, or ESRI, focusing on GIS education research, curriculum development, professional development for educators, partnerships to promote spatial thinking, and the use of geotechnologies throughout all levels of education. Prior to working for ESRI, he worked as a geographer and cartographer at U.S. Census Bureau and the U.S. Geological Survey. Kerski also teaches geographic information systems at the University of Denver in Colorado.