February 20, 2013
K-State team attends NACADA Institute
Submitted by Steven P. Dandaneau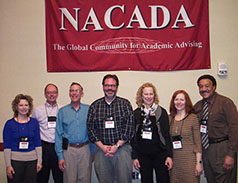 Six Kansas State University administrators participated in the Feb. 7-9 Academic Advising Administrators' Institute that was hosted by the National Academic Advising Association or NACADA.
Steven Dandaneau, vice provost for undergraduate studies, led a team composed of Alison Wheatley from Arts and Sciences; Christine Wilson from the College of Agriculture; David Griffin from the College of Education; Bente Janda from the College of Business Administration; and Kent Kerby from the Division of Biology.
The K-State team was aided in its work on-site in Savannah, Ga., by Charlie Nutt, NACADA executive director and K-State College of Education professor, who, in addition to kicking off the institute with a plenary lecture on initiating change, also celebrated his birthday among admiring colleagues from colleges and universities across the United States and five countries.
The K-State team was charged with helping to develop a concrete plan to achieve the K-State 2025 goal to "dramatically improve advising services for students and develop flexible and effective academic advising models appropriate to the diverse needs of our entire student population."
K-State's working group was led by Casey Self of Arizona State University and included multiple representatives from the University of Wisconsin-Madison, the University of Oregon, Drexel University and Rochester Institute of Technology.
The K-State team also enjoyed one-on-one consulting with Mark Taylor, assistant provost for undergraduate education at the University of Kentucky, and the numerous opportunities to interact with participants representing a range of institutions worldwide, from MIT to Egypt's American University in Cairo.
Key ideas discussed by the K-State team included adopting the national standard of a 300-to-1 maximum advisee-to-adviser ratio for professional advisers; attending more closely to the often diverse needs of faculty advisers; working within the K-State community to explore and define what we should expect from academic advising as such; and, with NACADA's assistance -- whose executive office is hosted at K-State -- developing an annual series of academic advising professional development programs and informational workshops designed to permit all K-State's advisers the same access to expert analysis and innovation in academic advising, which the six who participated in the Administrators' Institute in Savannah were able to enjoy. It only makes sense for K-State to regularly benefit from its close proximity to NACADA, which bills itself as "The Global Community for Academic Advising" and which indeed boasts an international membership of more than 11,000 and growing.