December 1, 2020
Carlson to retire from Campus Planning and Project Management after 41 years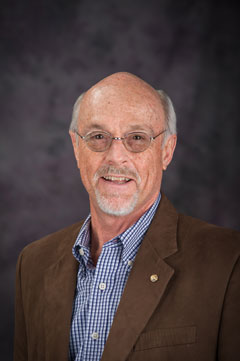 After more than 41 years of service, Jack Carlson will retire from Kansas State University on Dec 11.
Carlson's career began at the university on June 4, 1979. He has worked progressively from technical engineering positions to his current role as project manager for major construction projects at K-State.
Carlson's role focuses primarily on capital construction, major maintenance and repair projects, and various utility infrastructure projects. During his 41 years at K-State, some of the more significant projects he was involved in were the parking garage, Veterinary Medicine chiller plant, three separate phases of the campus primary electrical system improvements spanning from 1986 to 2020, and the campus chilled water plant and distribution project. The chilled water project was identified as a key element of K-State 2025 and lays the groundwork to provide building cooling infrastructure for current and future campus development. Carlson is now completing the construction of the Morris Family Multicultural Student Center. In addition, he has managed projects at the K-State Agricultural Research Center at Hays, new buildings, infrastructure and renovation projects at Konza Prairie, and building additions and infrastructure projects at Kansas State Polytechnic.
Carlson holds a Bachelor of Science in construction science from K-State, graduating with honors, and is a professional member of Construction Specifications Institute, Architectural Engineering Institute, Association of Physical Plant Administrators and Sigma Lambda Chi.
Over the course of Carlson's career, he received recognition by his peers as Employee of the Quarter, University Employee of the Year and was the recipient of the President's Award of Excellence for Distinguished Accomplishment in 2016 for his role in managing the massive chilled water expansion project. He recently was honored by the governor with the State of Kansas Employee Service Award for his 40 years of service.
Please join us in wishing him well in his retirement by signing an online card or emailing him at jec@k-state.edu.