December 1, 2020
Construction science student chapter honored with Chapter of Excellence Grant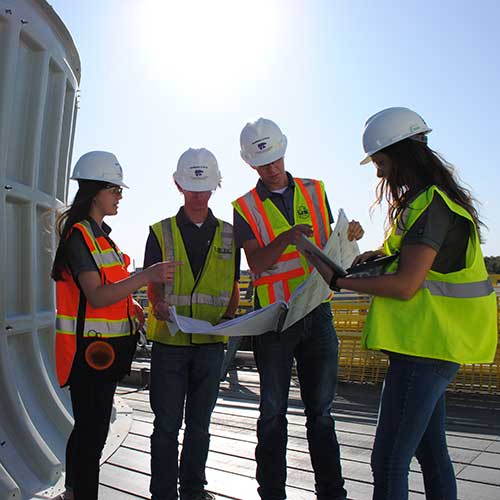 The Mechanical Contractors Association of America student chapter at Kansas State University has been awarded a 2020 Chapter of Excellence Grant on behalf of the John R. Gentille Foundation and the association's career development committee.
The $7,500 grant, funded by the Mechanical Contracting Education and Research Foundation, is earned by schools who have shown excellence in student chapter activities including participation in the contractors association's national project competition. Of the total amount awarded, $2,500 is to be used for chapter operations, development and field trips; and the remaining $5,000 is to be awarded to worthy student members as scholarship funds at the discretion of chapter faculty advisers.
In preparation for the Mechanical Contractors Association of America's competition project, which involved a mock construction proposal for the Penn South Chiller Replacement Project in New York City, chapter members toured the chiller plant on the K-State campus, asking questions of the facility operation's staff and the project manager for the mechanical contractor who installed the equipment. Students learned to use FastPIPE estimating software as well as Microsoft Project to build a realistic construction schedule. Several industry partners, such as U.S. Engineering, helped the team by providing feedback on its competition proposal.
Paul Karr, assistant professor and D. Craig and Dalene D. Nelson — Carl and Mary Ice Cornerstone teaching scholar, and Jongchul Song, associate professor and D. Craig and Dalene D. Nelson Cornerstone teaching scholar, both in the GE Johnson Department of Architectural Engineering and Construction Science, are faculty advisers for the chapter.