K-State and Hill's combining strengths to end pet obesity
Tuesday, Dec. 1, 2020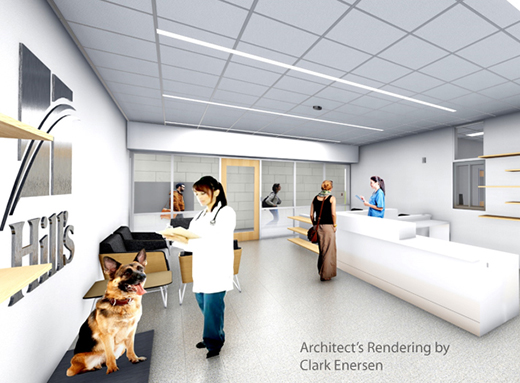 The Hill's Pet Health and Nutrition Center will be located in renovated space in the K-State College of Veterinary Medicine. Rendering by Clark Enersen Partners. | Download this photo.
MANHATTAN — A partnership between the College of Veterinary Medicine at Kansas State University and Hill's Pet Nutrition is providing new resources and facilities that will enhance medical and nutritional care for pets. The Veterinary Health Center serves as the college's teaching hospital and will benefit from a major renovation made possible through the partnership.

"The Veterinary Health Center is expanding in an important way," said Elizabeth Davis, head of the clinical sciences department and interim director for the Veterinary Health Center. "The College of Veterinary Medicine's partnership with Hill's Pet Nutrition has been in place since 2018, and in 2020, an important new part of the partnership will take shape. The Hill's Pet Health and Nutrition Center will open for patient care January 2021."
The new center will provide primary care and nutritional assessment to help maintain optimal pet health.

"An important long-term goal of the Veterinary Health Center Obesity Clinic, a vital service of the center, is to end pet obesity," Davis said. "We feel fortunate to have the opportunity to collaborate with Hill's in this impactful way. Hill's has provided an opportunity for the center to provide state-of-the-art primary care for small animal patients while training extraordinary graduates. We are thrilled to have the opportunity to partner with Hill's Pet Nutrition in this important way."

Jolle Kirpensteijn, chief professional veterinary officer, Hill's Pet Nutrition U.S., said, "We are proud to partner with K-State on this vital work to advance our understanding of and service to companion animals for today and for tomorrow. Collaborations like these incorporating academic institutions and commercial organizations are vital, and we are excited about this work that integrates research, pet care and student engagement — a powerful and rich combination. Obesity is a pervasive disease in our pets and only together can we turn the tide."

Davis said that the new Hill's Pet Health and Nutrition Center will provide service for routine primary care patients, walk-in urgent patient needs and triage to appropriate services as needed — with close proximity to a variety of veterinary medical specialists who work in the Veterinary Health Center. Additional services include animal behavior with Fear-Free® pet care, young pet care for puppies and kittens, annual visits with preventative health care, senior pet care and nutrition for all ages.

Davis said Hill's Pet Nutrition involvement in the Hill's Pet Health and Nutrition Center will provide a home for nutrition consultation, a designated Hill's primary care intern and direct consultation with board-certified veterinary nutritionists.

Taryn Pestalozzi was recently appointed as the Hill's clinical nutrition and primary care intern and consults at least weekly with two American College of Veterinary Nutrition board-certified clinical nutritionists from Hill's Pet Nutrition, who are also adjunct faculty with the clinical sciences department at the College of Veterinary Medicine.

Davis said the goal is to ensure that each patient receives a customized nutrition plan to obtain optimal results.

This summer, Hill's Pet Nutrition hosted a summer internship for third-year K-State veterinary student Jana Gigliotti, Arlington, Texas.
"My time as the Hill's U.S. professional veterinary affairs intern was such a valuable experience in many ways," Gigliotti said. "I was challenged, encouraged and welcomed with open arms into Hill's amazing workplace culture even though I was working remotely. My projects taught me how to better advocate and care for my future patients without me putting my hands on an animal."

Gigliotti said that not only were the projects and material clinically relevant, but organizing and giving presentations, independent thinking and getting a glimpse of the business side of veterinary medicine all contributed to her professional growth this summer.

"I can't thank my manager, Dr. Brandon Stapleton, and the entire Hill's team enough for what this internship has given me," Gigliotti said.

"We loved having Jana Gigliotti as our first summer intern within US Professional and Veterinary Affairs, and she was an outstanding addition to the Education team," said Stapleton, senior manager of education at Hill's. "She performed exceptionally and set a high standard for future interns."

Another aspect of the partnership includes the second annual Clinical Nutrition Symposium, offered for continuing education credit, to be 2-5 p.m. Tuesday, Dec. 15, via Hill's Pet Nutrition's "Hill's at Home CE" program. For more information and to register, visit https://hillsathomece.com/. This symposium features experts from the college and professionals from the industry who will be lecturing on small animal nutrition. It will also feature a special live interview with Jordy Nelson, a former K-State and NFL football player. This symposium will include complimentary registration to professionals in the field who are looking to learn more about educating and communicating with pet owners to have healthy animals.

The K-State College of Veterinary Medicine, established in 1905, is dedicated to scholarship through innovation and excellence in teaching, research, and service to promote animal and human health for the public good. The college is committed to creating an environment that is fulfilling and rewarding, being recognized for good communication, productive collaboration, mutual respect, diversity, integrity and honesty. To carry out this mission, the college's nationally recognized instructional and research programs provide the highest standards of professional education.