November 11, 2020
Register to attend Morris Family Multicultural Student Center ribbon-cutting Nov. 20
Submitted by Diversity and Multicultural Student Affairs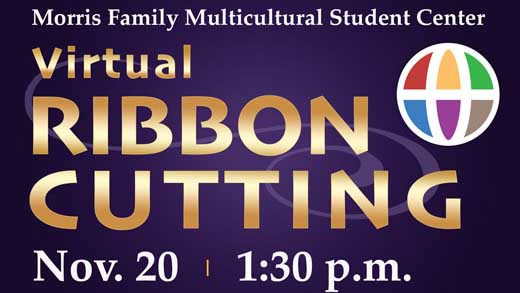 After years of visioning, the Morris Family Multicultural Student Center is nearing completion. Students, faculty and staff, alumni and community guests are invited to a virtual ribbon-cutting ceremony at 1:30 p.m. Friday, Nov. 20.
"The Morris Family Multicultural Student Center has been a long-awaited and much-anticipated building on campus," said Adrian Rodriguez, associate vice president for student life of diversity and multicultural student affairs. "It not only provides a vital home for our student and campus community, but it also symbolizes what we value most at Kansas State University — and that is each other, every single Wildcat. We are incredibly excited about opening the doors to what is sure to be an iconic space for students at K-State."
This virtual celebration will provide an opportunity to hear from student leaders, K-State President Richard Myers, lead donor Jim Bob Morris and other individuals who helped to bring this center to fruition. Opportunities for small group guided tours of the facility will be made available following the conclusion of the program. If you are interested in a small group guided tour, please meet in the K-State Student Union courtyard to join a group.
Register to attend the virtual ribbon-cutting.
In addition to the ribbon-cutting, a variety of programs and activities will be offered in spring 2021 at the center to continue celebrating culture and heritage.