November 11, 2020
Brie Hensold to present next APDesign Ekdahl Lecture at 4:30 p.m. today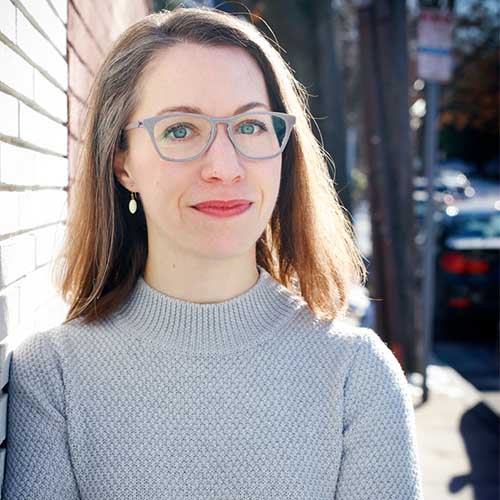 Brie Hensold, co-founder and principal at Agency Landscape + Planning, will present "Optimism and Action: Planning for Today" as part of the College of Architecture, Planning & Design's, or APDesign, 2020-2021 Ekdahl Lecture Series at 4:30 p.m. Wednesday, Nov. 11. The lecture is partially funded by the K-State Student Governing Association fine arts fee, along with sustained support from the Ekdahl family. This event is presented virtually and is free and open to the public.
Hensold explains that planning and design are critical tools for navigating change — and today, change is all around us. From demographic shifts to the impacts of a changing climate to economic uncertainty, change can lead to division and challenges. But it can also be harnessed for cultural expression, resilient solutions and more equitable futures. In 2020 alone, communities have restructured work environments, taken learning online and demonstrated a new appreciation for bikes, parks and the outdoors. Agency Landscape + Planning is committed to projects that make positive, community-driven change. Hensold will share recent projects and community stories that demonstrate this commitment to optimism, emphasizing the enduring role of nature and culture in sustaining places.
Agency Landscape + Planning is a mission-driven practice dedicated to addressing social equity, cultural vitality and environmental resilience through design excellence, strategic planning and community engagement. The firm believes that — to address the most challenging issues of our contemporary society — diversity and inclusion are foundational to how people see, understand and, ultimately, shape the collective experience, particularly in the public spaces, parks and streets of our cities. They seek landscape and planning opportunities that allow them to partner meaningfully with constituents, that welcome many voices and hands in the process, and that produce outcomes that are deeply connected to the richness and uniqueness of place.
Hensold is an urban planner and co-founder and principal of Agency Landscape + Planning. With a passion for understanding and improving communities and places, Hensold brings a systems-based approach that integrates multiple disciplines and celebrates diverse perspectives. She has extensive experience developing creative and meaningful community engagement processes for planning and design projects. Hensold's experience encompasses multiple scales, from downtown plans to citywide park systems to resilience strategies. Her work has received awards from the American Society of Landscape Architects, the American Planning Association and the American Institute of Architects, among others. She co-teaches an executive education class in resilient cities at the Harvard Graduate School of Design.
View a full listing of the 2020-2021 Ekdahl Lectures and virtual links.
The Oscar S. Ekdahl Distinguished Lecture Series in Architecture and Design brings the finest professionals in the design and planning disciplines to APDesign and the K-State community. These individuals are selected to avail faculty, staff, students and regional professionals to the potency of design and planning in addressing the issues we face as a global society. The series honors Oscar Ekdahl who received his Bachelor of Architecture from Kansas State University in 1933 and was a founding partner in Ekdahl, Davis, Depew, Persson Architects PA in Topeka.