January 24, 2020
Singh joins editorial team of Journal of the American Ceramic Society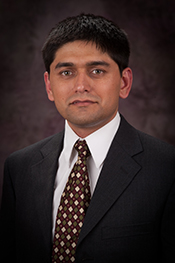 Gurpreet Singh, endowed associate professor in mechanical engineering, will serve as associate editor for the Journal of the American Ceramic Society, or JACerS.
JACerS is one of the top journals in the materials science-ceramics category. The journal publishes 12 issues per year, and focuses on research that spans the diverse segments of ceramic science.
Singh is the director of a National Science Foundation, Partnerships for International Research and Education grant. He works in the area of nanotechnology with a focus on processing structure property characterization of two-dimensional materials and molecular precursor derived ceramics for energy-based devices. Singh has more than 140 technical publications — journal papers, conference papers, patents, books and technical abstracts — to his credit.
In his new role, Singh will review and evaluate the technical merit of research manuscripts, as well as weigh in on disparate review recommendations.
"I am honored to be part of the JACerS editorial team," Singh said. "I look forward to advancing the field of materials science, through the evaluation of original research manuscripts."
The Journal of the American Ceramic Society is among the top sources for ceramic materials science research, providing scientists, engineers and students with critically assessed, original research for more than 100 years.