January 21, 2020
Heier Stamm recognized as Professor of the Week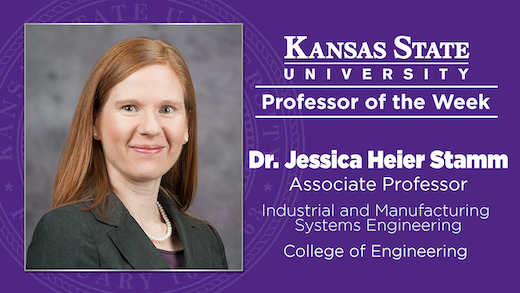 Jessica Heier Stamm, associate professor of industrial and manufacturing systems engineering in the Carl R. Ice College of Engineering, was recognized as Professor of the Week at the Jan. 18 men's home basketball game.
Heier Stamm joined the faculty in the industrial and manufacturing systems engineering department in 2010. Her teaching responsibilities include undergraduate and graduate courses in operations research, supply chain engineering, decision analysis and game theory. She is passionate about helping students discover the ways that they can make a positive impact in the world as industrial engineers.
Heier Stamm's research addresses challenges in humanitarian and public health logistics systems. This work is funded in part by a National Science Foundation CAREER Award. Heier Stamm collaborates with graduate and undergraduate students, as well as public and private sector organizations, including the Kansas Department of Health and Environment. This work is informing the ways that health care and public health organizations in Kansas manage supply chain decisions for disaster preparedness and response.
In addition to her role at K-State, Heier Stamm is currently serving on the board of the Public Sector Operations Research section of INFORMS, the Institute for Operations Research and the Management Sciences.
She is a K-State alumna, having earned her bachelor's degree in industrial engineering. The department's graduating seniors selected Heier Stamm as the Outstanding Teacher in 2013-2014, 2016-2017 and 2017-2018, and she won the 2016 College of Engineering Outstanding Assistant Professor Award. She was a Steve Hsu Keystone Research Faculty Scholar from 2017 to 2019, and is currently the Gisela and Warren Kennedy Cornerstone Teaching Scholar.
The Professor of the Week recognition is coordinated by Faculty Senate, the president's office, K-State Athletics and the Division of Communications and Marketing. Recipients are faculty members selected by Faculty Senate caucuses. Those selected are provided tickets to a men's home basketball game of their choosing and are recognized during halftime. This is a small token of appreciation for those who teach at K-State.