January 21, 2020
Explore Ireland: Education abroad opportunity in summer 2020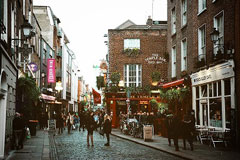 The communication studies department is offering a two-week education abroad course in Ireland, May 16-29, for undergraduates and graduate students in all majors interested in an academic and intercultural experience in a foreign culture.
The course directed by Professor Timothy Shaffer may be taken as COMM 545: Communication and Democracy or COMM 831: Deliberation and Dialogue Process Models for three credit hours. The undergraduate course meets major, minor and elective course requirements including leadership studies minor and K-State 8 Human Diversity and Historical Perspective (545) requirements, and the graduate course is part of the DDPE Certificate Program (831). It is open to all K-State students and others interested in learning about communication's role in Irish democracy.
In this course, students will explore the complex and multidimensional ideas of communication and democracy through the Irish lens, especially the historical roots that have shaped Irish politics and culture, as well as the recent examples of how deliberative dialogue processes have shifted how political issues are addressed. During the trip, students will visit various historical sites including a walking tour of the Dublin City Center, Dublin Castle, St. Patrick's Cathedral, Guinness factory tour, Aran Islands, and participate in meetings with officials from the County Mayo and County Roscommon local governments.
By the end of the course, students will better understand what democracy means both theoretically and practically, learn how different processes and approaches impact deliberative settings with specific emphasis on citizen assemblies, and reflect on our own identities and the ways that we situate ourselves in democratic life as civic professionals.
Highlights:
Walking tour of Dublin City Center
Dublin Castle
St. Patrick's Cathedral and Cathedral of the Most Holy Trinity
Trinity College
Guinness factory tour
Leinster House
Aran Islands tour
Strokestown National Famine Museum
Roscommon County Council
Guest lectures
For more information about the course and scholarships/financial aid, visit the communication studies' study abroad page.