January 21, 2020
Feeding Your Future discovery day with the grain science and industry department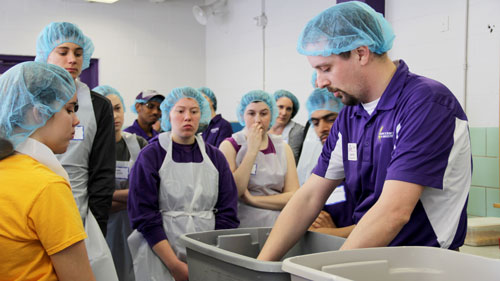 The grain science and industry department at Kansas State University will host the annual Feeding Your Future event from 9 a.m. to 3 p.m. Feb. 8. This day of discovery will allow high school students to explore career paths within the grain science industry.
Feeding Your Future will be packed with hands-on activities showcasing the different areas of bakery science and management, feed science and management, and milling science and management. These areas of exploration will be led by current K-State students in grain science, with aid from faculty and staff.
"The event is an excellent opportunity for potential students," said Brenda Heptig, the grain science and industry department's academic programs support coordinator. "High school students will get to experience hands-on activities related to bakery, feed and milling science, interact with current students and faculty, as well as tour our facilities."
Students will start in the laboratories, exploring different grain-based foods and feeds as they learn about the production of wheat flour, baked goods and animal feed including pet food. Tours of the milling and feed pilot production facilities on campus will take place in the afternoon. Students will have the opportunity to compete in a judging competition to critique the quality of different food and feed products. To conclude the day, an awards ceremony will take place along with an ice cream social where students will, once again, be able to interact with faculty and staff.
For additional information and to register for the event, contact Heptig at bheptig@k-state.edu or 785-532-4051.