November 9, 2012
Agreement gives Chinese students a jump start on a U.S. veterinary medicine education
Submitted by Communications & Marketing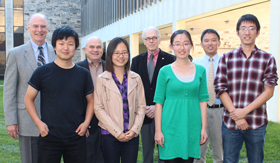 A new partnership is letting Kansas State University introduce Chinese students to a U.S. veterinary medicine education.
Officials from the university's College of Veterinary Medicine signed a memo of understanding Oct. 28 with the China Scholarship Council on a joint program to help educate Chinese veterinary students in the United States.
The program involves choosing up to 10 students per academic year to study pre-veterinary courses at Kansas State University for a year, helping them acclimate to education and culture in the United States. The students then apply to study veterinary medicine at Kansas State or a partnering veterinary college at the University of California-Davis, Iowa State University, University of Minnesota, University of Missouri or Oklahoma State University.
"For the Doctor of Veterinary Medicine student program, I see U.S. students and Chinese students as the future leaders of the animal health industry in both countries," said Jishu Shi, director of the university's U.S.-China Center for Animal Health. "Our goal is to train 50 DVM students in the next 10 years. We also are working to send our faculty to China to provide continuing education and to develop better standards of veterinary education in China."
After the first year of pre-veterinary study, the students will be entirely funded by the China Scholarship Council, which has committed around $13 million to fund the program. The program marks the first time the council has worked with a foreign institution to select the students who would receive a scholarship. This covers out-of-state tuition, fees, living expenses and travel from China to the U.S. and back after students finish their Doctor of Veterinary Medicine education.
The program was coordinated through Shi and the U.S.-China Center for Animal Health, with the support of Ralph Richardson, dean of the College of Veterinary Medicine, and Frank Blecha, the college's associate dean for research.
The program also is supported by the Chinese Veterinary Medical Association, American Veterinary Medical Association, China Animal Disease Control Center, the Bureau of Veterinary Services in China's Ministry of Agriculture, International Veterinary Cooperation for China, Pfizer Animal Health and the World Veterinary Association.
Four of the program's students are at Kansas State University this year: Yi Ding, senior; Yaoqin Shen, junior; Bo Liu, senior; and Jing Li, senior, all in pre-veterinary medicine. They were selected from a pool of 21 applicants. Each has completed a veterinary program in China, but their previous courses were part of undergraduate degrees that do not provide the same clinical experience as veterinary colleges in the United States. Helping students such improve their veterinary skills is one of the missions of the U.S.-China Center for Animal Health.