November 9, 2012
Entomology award recipient recommends students seek internships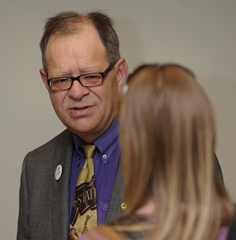 Terry Mize, Olathe, product development manager for North America for FMC Corporation, was recognized Nov. 2 as the 2012 Distinguished Alumnus for the Kansas State University department of entomology.
Mize, who earned a doctorate from K-State in 1985, presented a seminar on working in the private sector as an entomologist.
"With the situation in entomology right now, students have a lot of flexibility to design a training program for whatever they think they want to do, whether it is academia or private industry," he said.
He recommended students look at communications, business and marketing skills and learn that vernacular.
Mize said K-State did a great job in helping him prepare for his career with many mentors, including his major professor, Gerald Wilde.
"He gave me the experience and the opportunity to do original research, and he put me in contact with a lot people in private industry," Mize said. "It helped me get a job."
Mize recommended students investigate internships.
"Internships are the best way for a company to find great employees without taking risks," he said.
At the FMC Corp., Mize is responsible for creating new crop protection solutions from concept to registration with the Environmental Protection Agency and market launch.